29 août 2016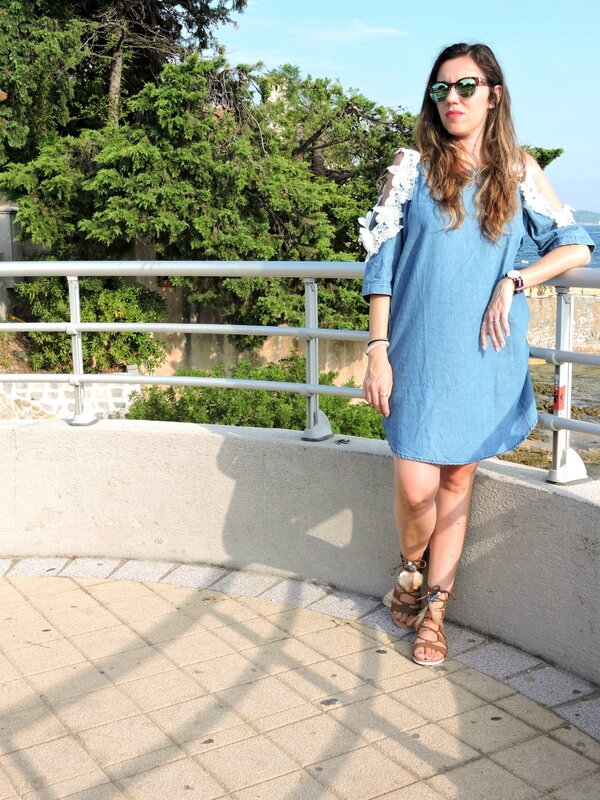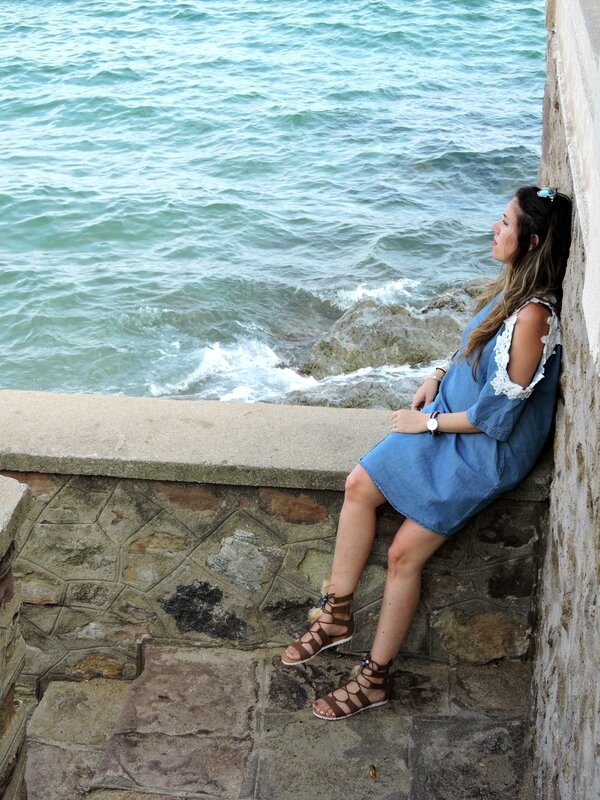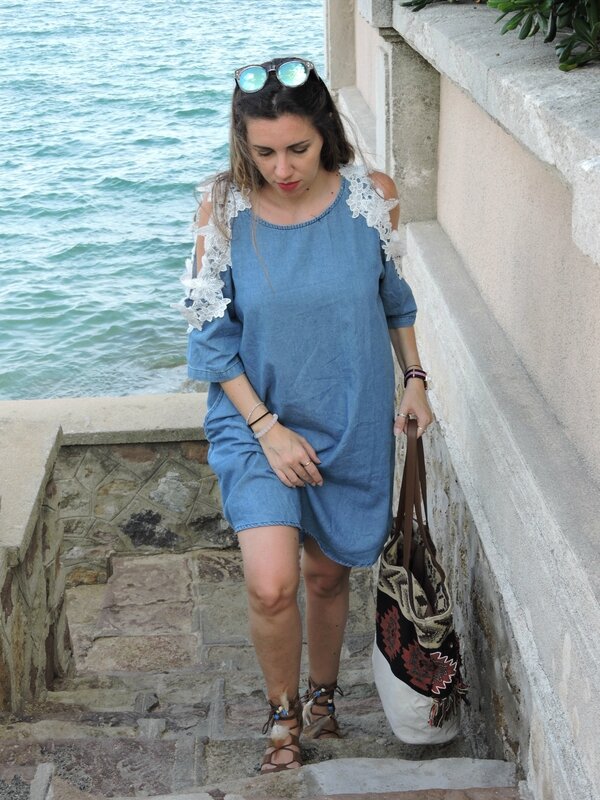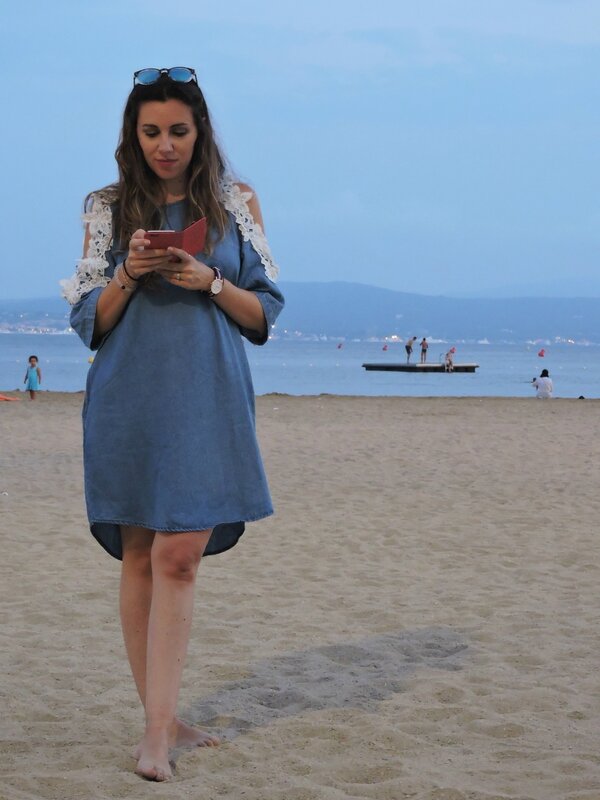 Bonjour vous !
C'est la rentrée ( ou presque) et me revoilà avec un nouveau look !
Les 3 premiers mois de grossesse étant passés, on peut dire que je me sens beaucoup mieux et prête à reposter régulièrement !
Je vous partage mon coup de coeur pour cette jolie petite robe en denim de chez SammyDress !
Sa coupe assez ample me permet d'être super à l'aise et de rentrer sans difficulté ce petit ventre qui commence à bien pointer le bout de son nez !
J'adore les poches ET ! Que dire de ces jolis détails sur les manches ?!
Si j'avais pu je l'aurais portée pendant toute mes vacances ( mais on va quand même pas abuser ! )
J'espère que vous allez bien !
Je vous souhaite une très bonne semaine !
A bientôt
La bise, V
Get the look :
Robe/dress : Sammy Dress
Sandales : Tally Weijl
Sunnies : Mango
Montre/watch : Daniel Wellington
Hey there beauties !
I'm back with a new outfit post !
Now that the first 3 months of my pregnancy are gone I feel much better and will be here more regulary ! Yay !
I'm sharing with you my crush for this little denim dress from SammyDress !
The shape is just perfect for my babybump and so comfy !
Love the pockets and oh ! what about the details on the sleeves ?
So cute right ?
I hope you're all doing well and i wish you a great new week !
Much love
Xoxo, V
02 août 2016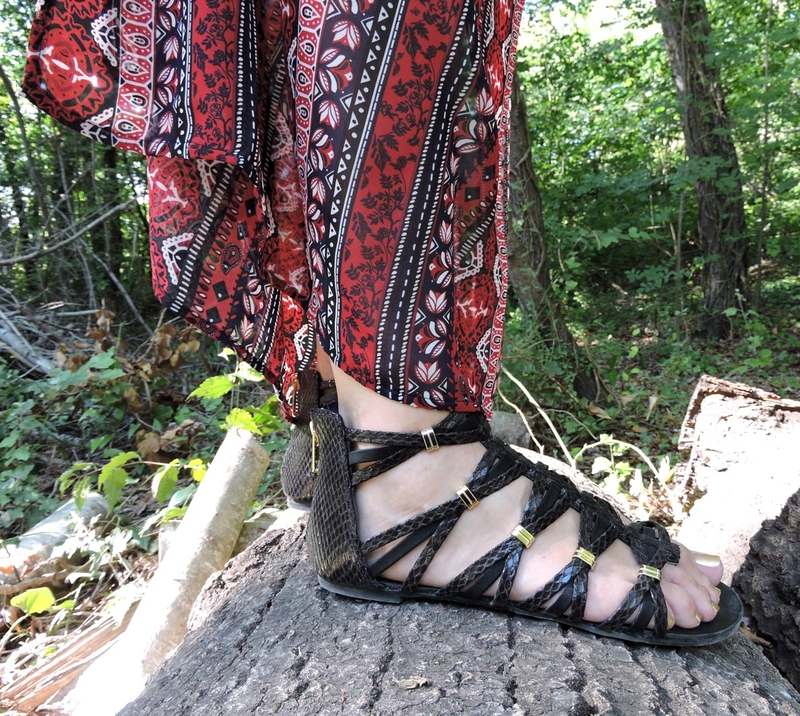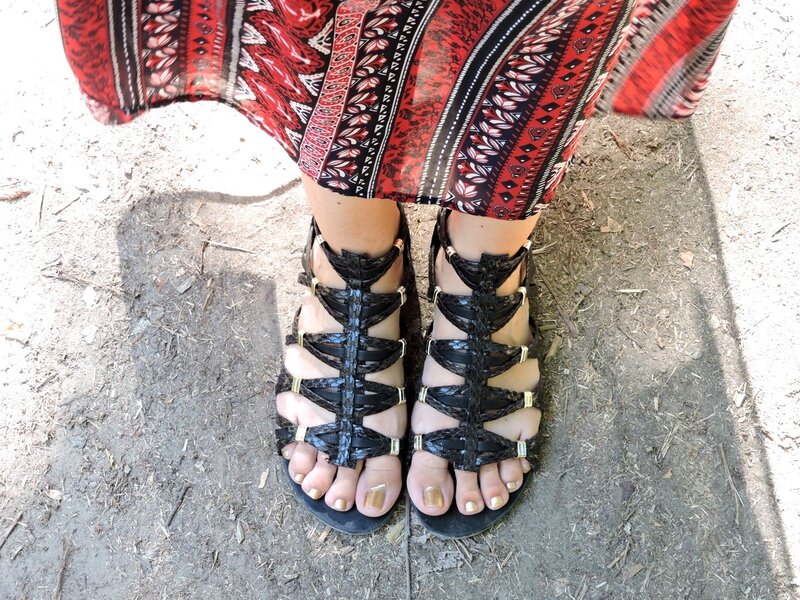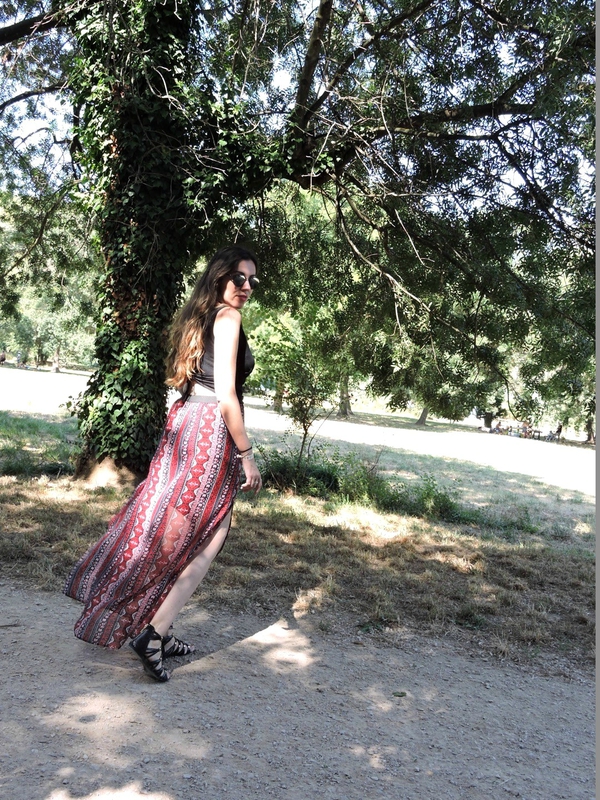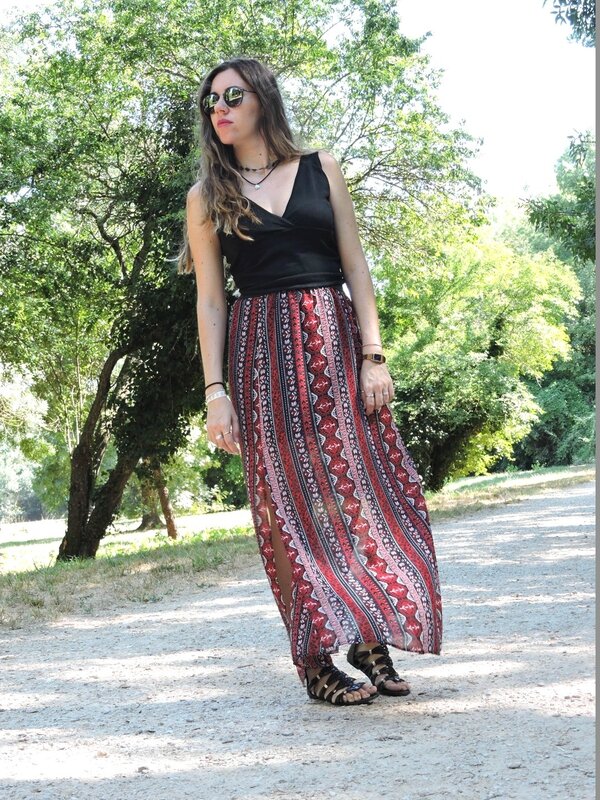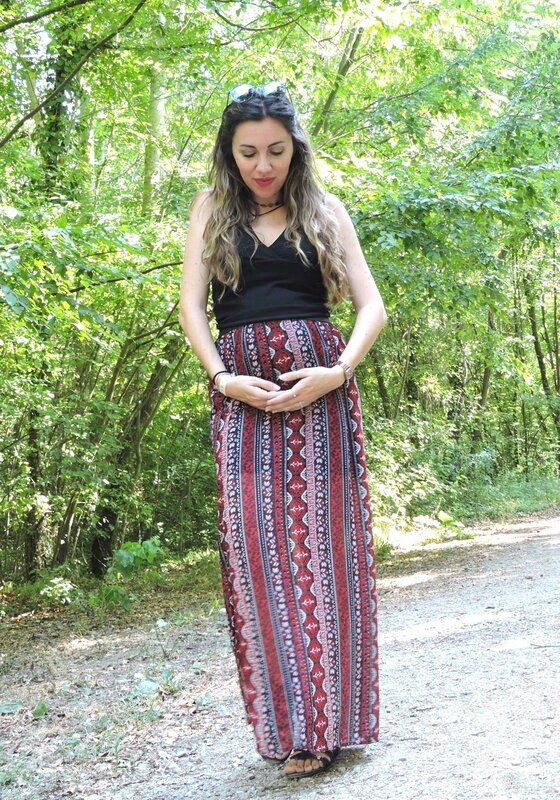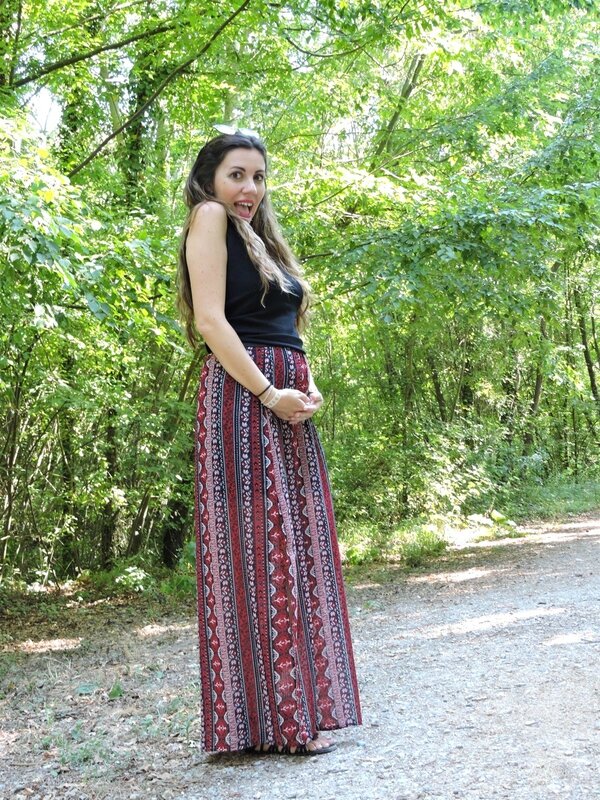 Get the look :
Top : vieux top coeur croisé ressorti du placard ! / Old - Jupe / Skirt : H&M ( summer co _ sold out ) - Sandales: Steve Madden ( sold out , a little similar here and on sale ! ) - Sunnies : RayBan - Choker : Forever21 similar here
Bonjour vous !
Me revoilà avec un nouveau look et surtout une jolie nouvelle !
Je pense que vous l'aurez constaté, mon ventre s'arrondi et c'est pas seulement à cause des crêpes et des glaces ! ahah
Le plus merveilleux des cadeaux, la plus belle des expériences. Une nouvelle aventure que je suis en train de vivre à fond !
Devenir mère était un de mes plus grands souhaits et voilà qu'il se réalise ..
Et sinon ! J'espère que vous aimez ce petit look avec cette jupe aux imprimés ethniques et colorés
J'aime beaucoup ce voile qui apporte l'effet de transparence et de légèreté !
Le top est vraiment une antiquité ! Mais pourquoi pas ! Faut croire qu'il est de bonne qualité ! :D
Je vais essayer de me remettre à poster des looks assez régulièrement maintenant que je me sens mieux !
Je vous souhaite une belle semaine !
La bise, V
Hi beauties !
I'm back with a new outfit and most of all a beautiful surprise !
No nooo I didn't eat too much cakes, cookies and ice cream ! ahah
But this belly is definitely getting bigger and let you discover that cute bump !
This is the most amazing experience, the best gift I could have.
To become a mommy is one of my biggest wish and I'm realising it ! I'm feeling so blessed..
Now talking about that look : I love maxi skirts and this one is super cute and comfy ! Love the print and color.
That top is old very ooooooold ! But why not uh ? The quality was surely good enough !
I'm trying to be back to blogging now that I feel better and will post more often !
I wish you a super week beauties !
Much love, V
12 juillet 2016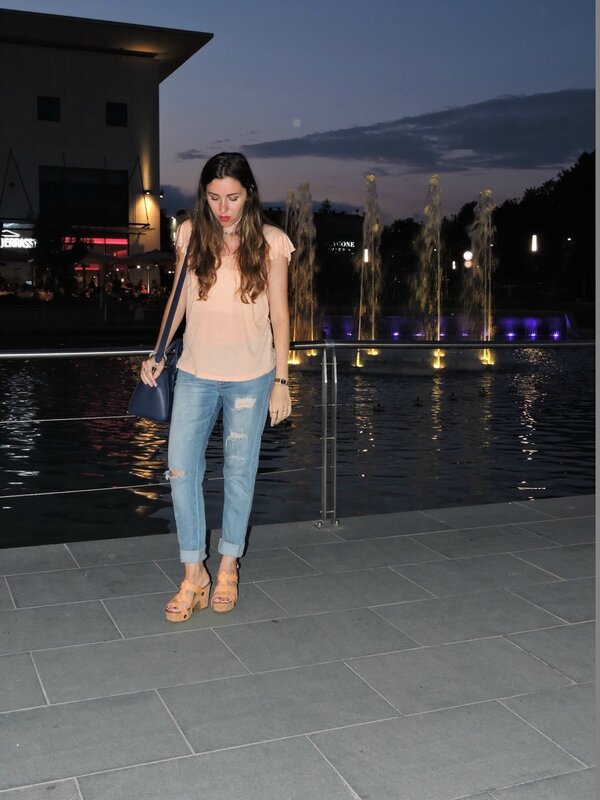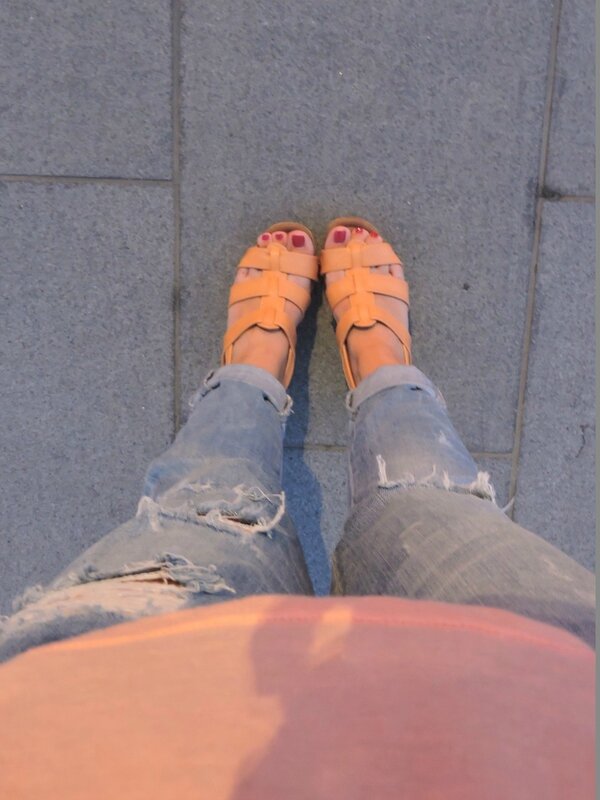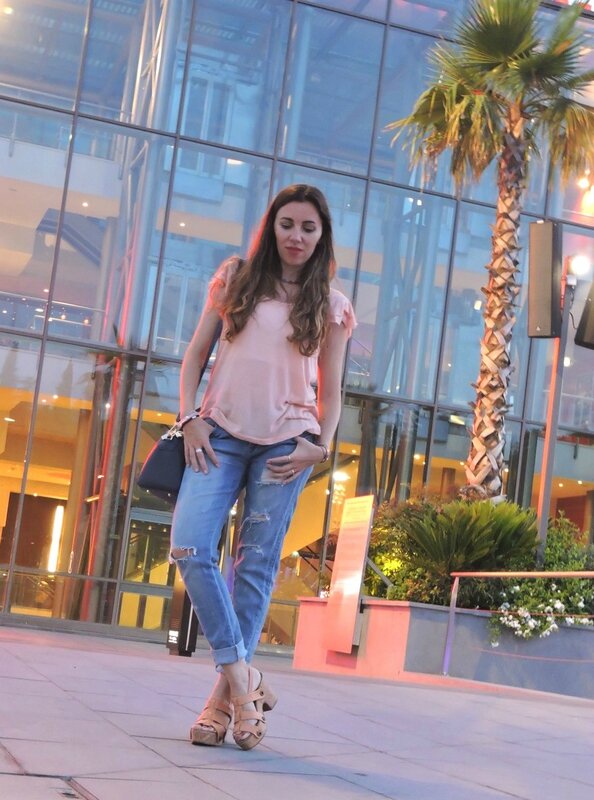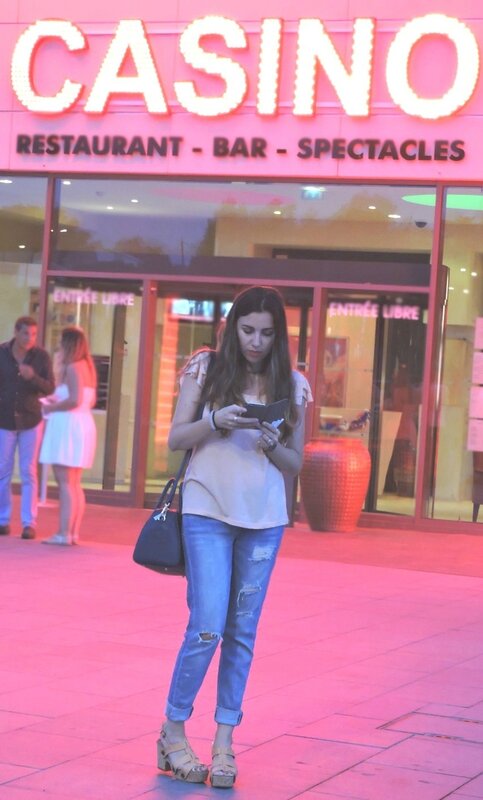 Get the look :
Top & boyfriend : Zara ( old ) - Sandales : Galibelle
Bonjour vous !
Voici un nouveau look que j'ai voulu vous partager à l'occasion de l'election de Miss Prestige au casino Terrazur de Cagnes sur Mer.
Alors, il n'était pas prévu que je fasse un post sur mon blog, mais depuis le temps il faut absolument que je vous parle des chaussures Galibelle !
C'est une marque brésilienne de chaussures interchangeables. C'est à dire ?! On achète la semelle et ensuite on achète le dessus ( strap ) qui nous convient !
Et donc ? Tu peux garder la même semelle et acheter plusieurs straps ! Waoooow ! :D
Alors déjà les semelles sont en cuir et liège, super légères et confortables.
Tu peux ensuite faire les combinaisons que tu veux ! En sachant que ( mis à part exception dans la forme du strap ) les straps sont réversibles.
Les straps ont eux aussi des tailles , ce qui veut dire qu'elles s'adaptent aux pieds fins comme aux pieds larges.
C'est la chaussure personnalisée par excellence !
Je vous laisse découvrir leur site web ici si le concept vous intéresse !
Les points de vente y sont répertoriés et pour celles qui habitent la région ( Nice et alentours) votre point de vente se trouve au 17 avenue Notre Dame magasin " Les Drôles de Nanas "!
Le prix est super raisonnable par rapport à la qualité et l'originalité !
J'espère que cela vous plaira !
Bonne semaine à vous !
La bise, V
Hey there beauties !
Here is a new post that wasn't meant to be there but I just had to talk about this brand : Galibelle !
For who doesn't know it , it's a brasilian shoe brand . You buy the sole and then you can just choose your strap, buy several ones and like they say " you can change it " !
How cool is that ?
Youjust do your own combo mixing colors and patterns !
They are in leather and cork. Super comfy and also super cute

One strap by another you literally change the style of the sandals !
The straps also have a size from S to XL which means that their are perfect for slim or large feet !
It's the perfect personalized sandals !
I just love the idea , and if you are like me you can visit their website here .
the price is really affordable when you see the quality and originality !
I hope you'll like it !
Have a super week !
Much love, V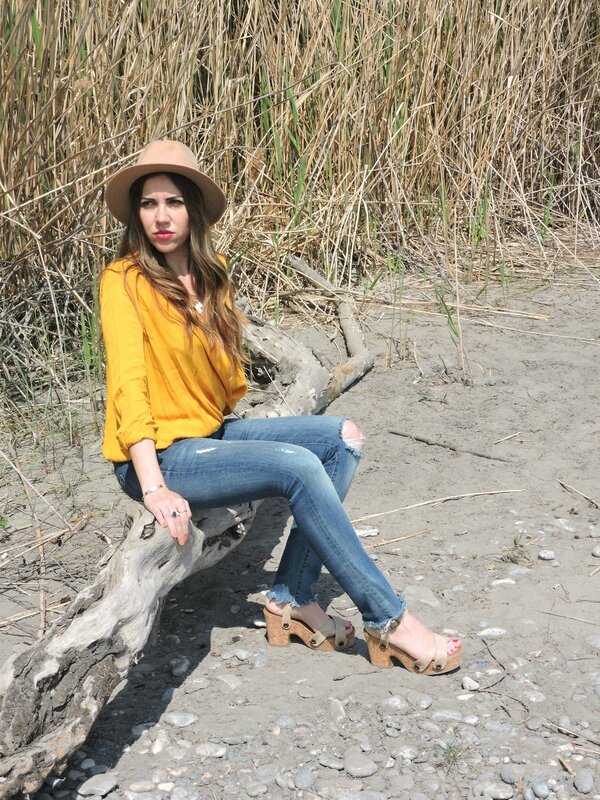 Sur cet autre post je les porte également mais avec un strap différent - In this other post I also wear them but with another strap !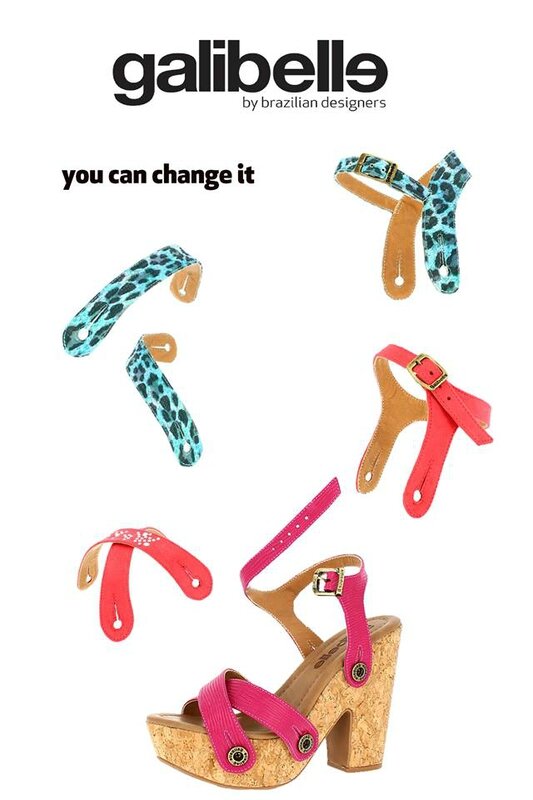 05 juillet 2016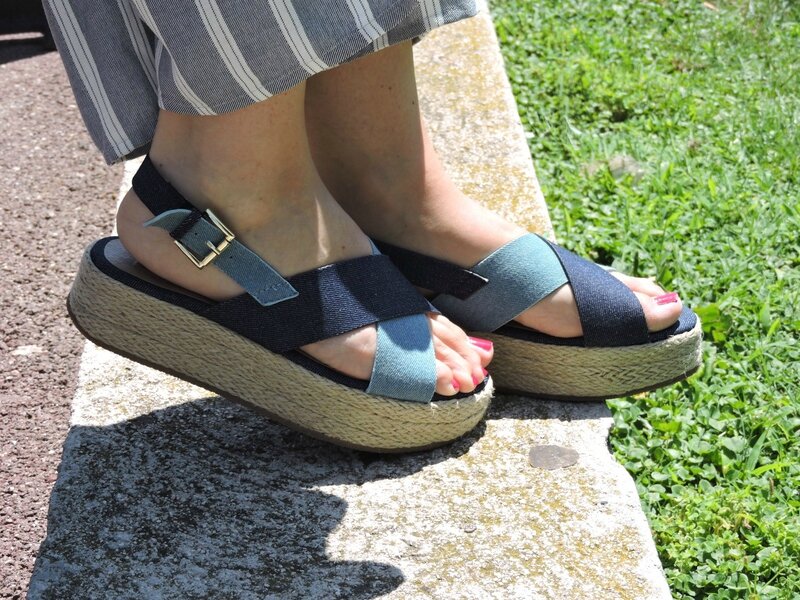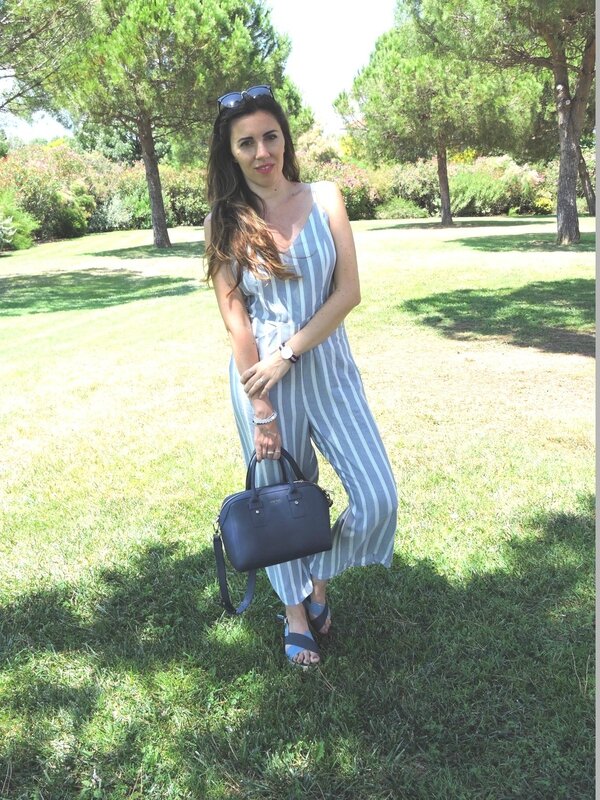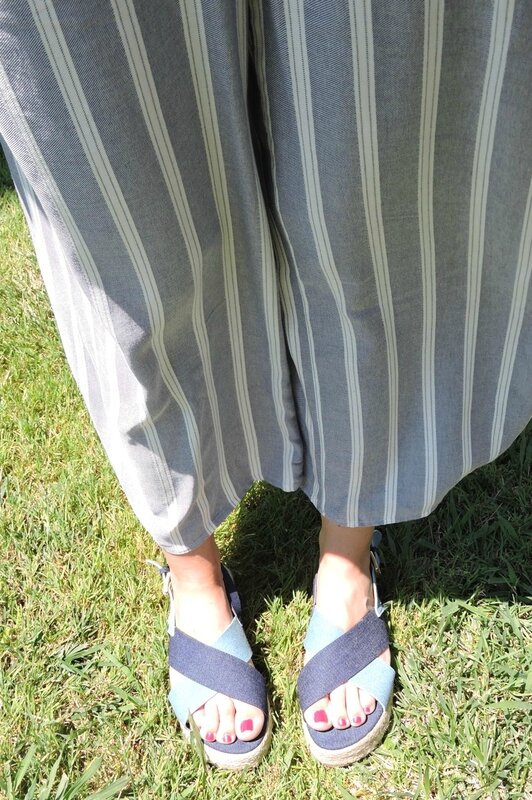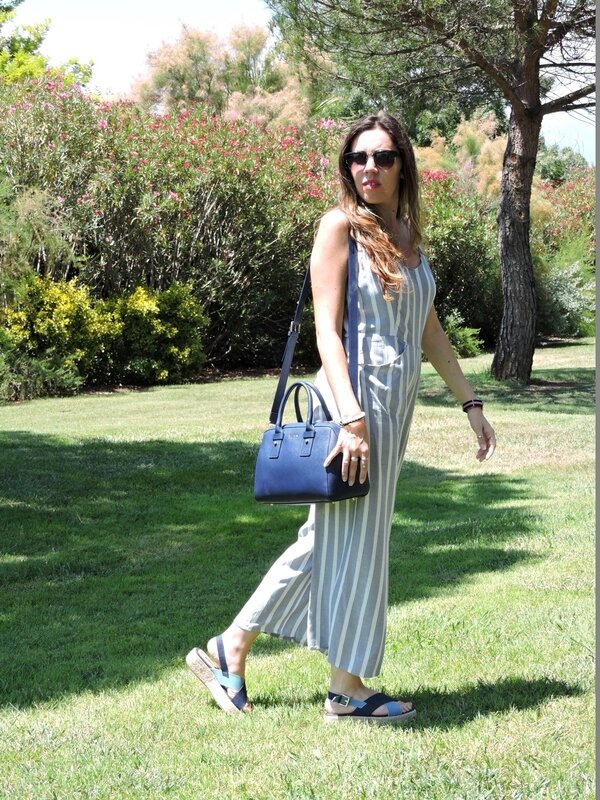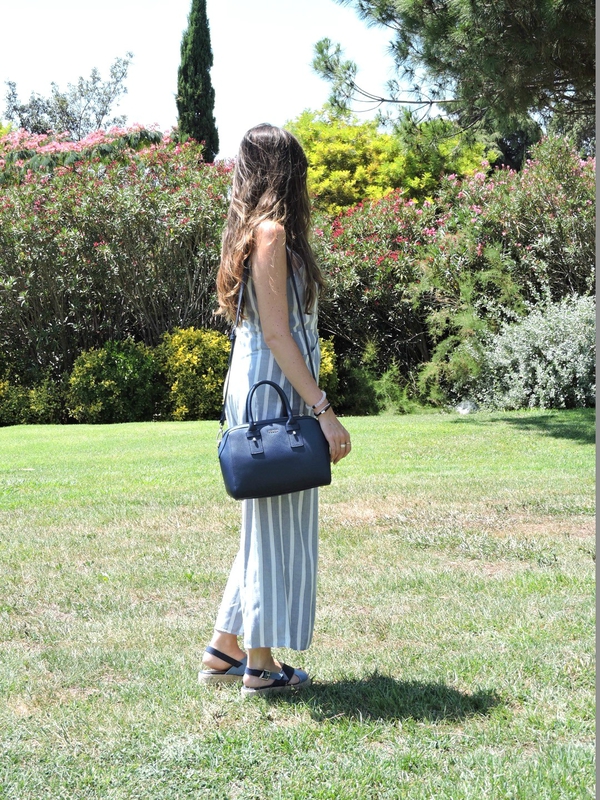 Get the look :
Combinaison / Jumpsuit : Bershka similar - Sac / Bag : Furla modèle Allegra ( On Sale ! ) - Sandales : Suite Blanco chez Zalando
Montre/ Watch : Daniel Wellington -15% avec code BRIGHTNESS jusqu'au 31 juillet / 15%off with code BRIGHTNESS until july 31
Bonjour bonjour !!
Cela fait quelques semaines que je n'ai pas publié sur le blog! Mais ainsi va la vie :D
Me voici quand même de retour avec cette combinaison de chez Bershka que j'ai enfin pu porter ! Bah oui, la chaleur est belle et bien là cette fois, et du coup plus c'est léger mieux c'est !
J'ai toujours la passion des rayures VERTICALES je précise eheh puis le tissus est super agréable.
J'aime aussi ce décolleté dans le dos !
Le joli sac est un Furla, beau cadeau d'anniversaire de l'homme ! Profitez, il est en solde sur le site !
Les sandales je les avais commandées sur le site Suite Blanco , elles n'y sont plus mais je vous les ai trouvé chez Zalando au cas où vous craqueriez !
Et vous feriez bien, parce que honnetement les sandales plateforme ( tout comme les baskets plateforme ) c'est génial et surtout très confortable !
En ce qui concerne la montre c'est une classique Daniel Wellington !
Alors je crois qu'il n'y a pas de soldes sur leur site mais par contre si vous utilisez mon code BRIGHTNESS vous aurez -15 % sur votre commande ce qui n'est pas négligeable !
Vous aurez également 1 bracelet de rechange !
Le code est valide jusqu'au 31 juillet !
Voilà j'espère que ce look vous plaira !
Je vous souhaite une belle semaine! Pleine de bonnes affaires ! Pour ma part les soldes commencent demain ( et oui, alpes maritimes en retard ! )
A bientôt
La bise, V
Hey there beauties !
Im back with a new look after a few weeks of not posting on the blog...bouuuuuh .. ahah
I love that jumpsuit from Bershka ! The pattern is perfect and I always have that crush for stripes ! Ialso love the back which paired with a cute lace bra is super cute !
It's large and cropped, perfect for summer and that heat who finally came also here !
That Furla bag ! Hubby's birthday gift and yay I love it ! And it's now on sale on their website !
Those sandals are super cute and comfy ! Denim + plateform + espadrilles ... what a perfect combo right ?
The Daniel Wellington watch is just perfect and I'm so happy with it !
You still can use my code BRIGHTNESS until july 31 for 15% off on the website !
I hope you'll like that look !
I wish you a super week !
Much love , V
14 juin 2016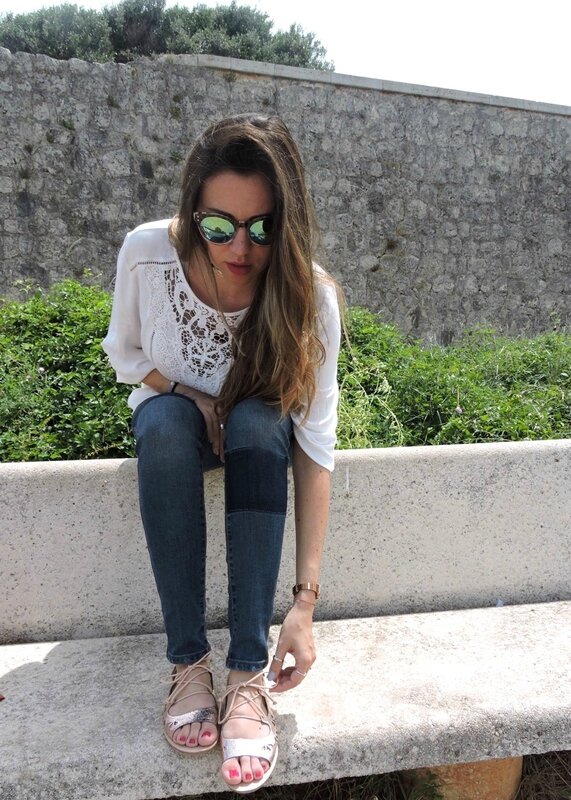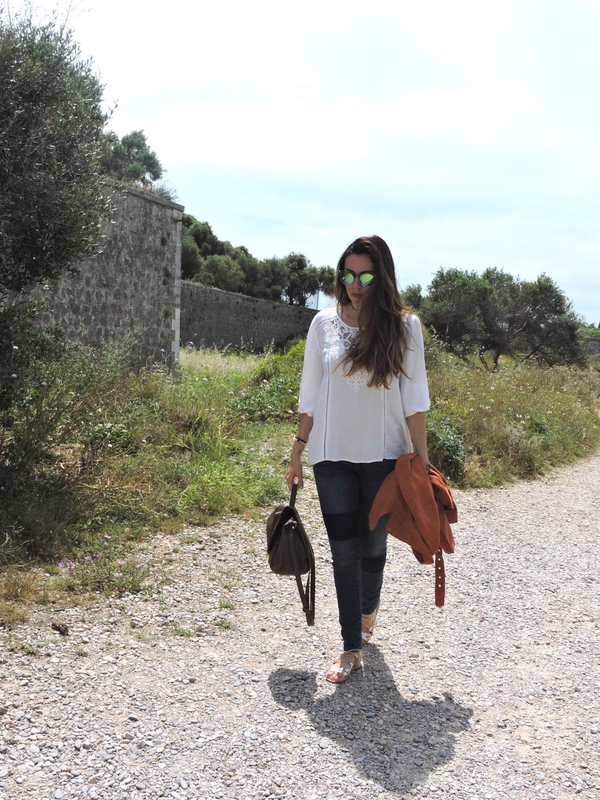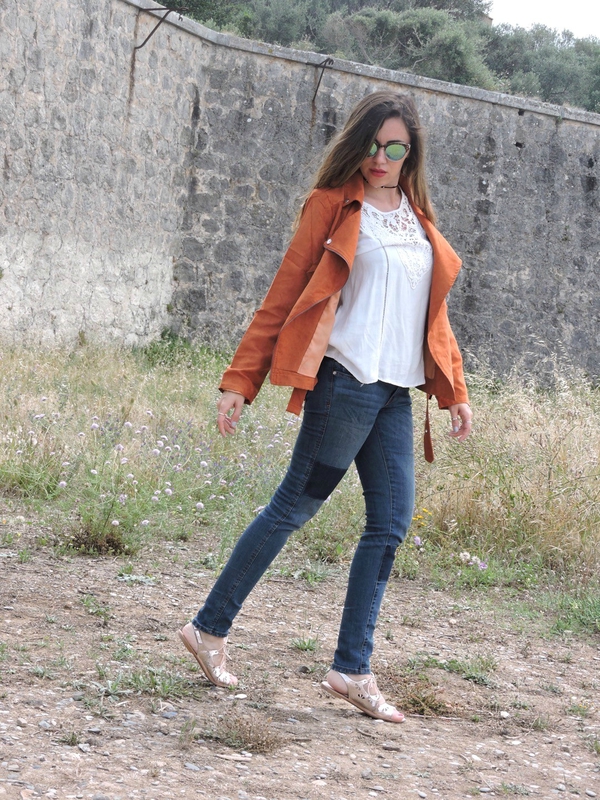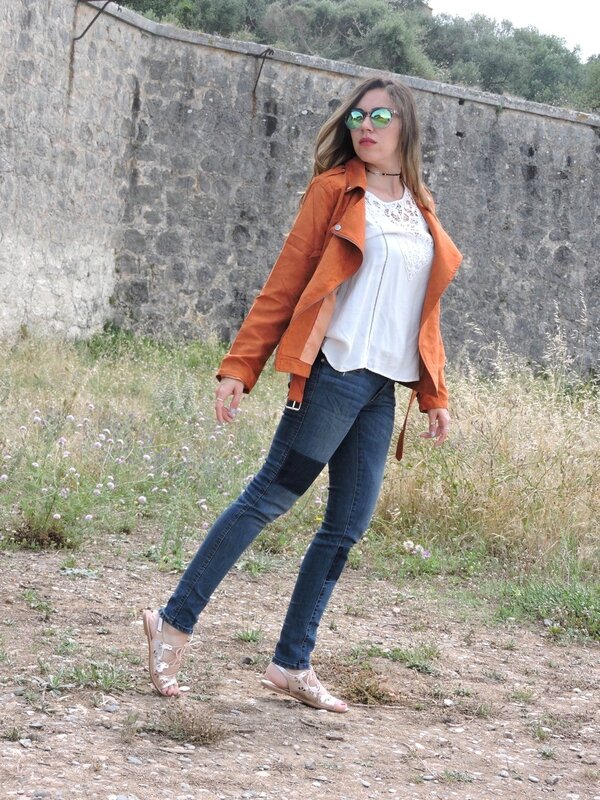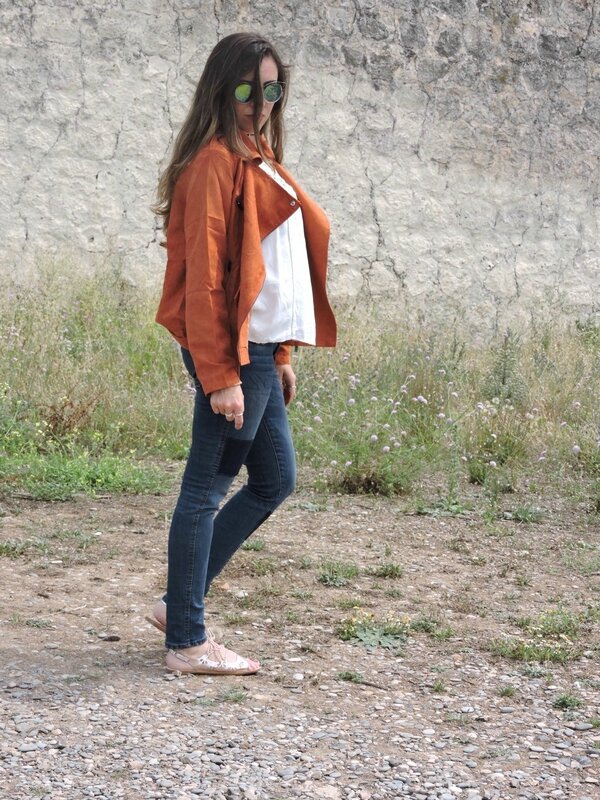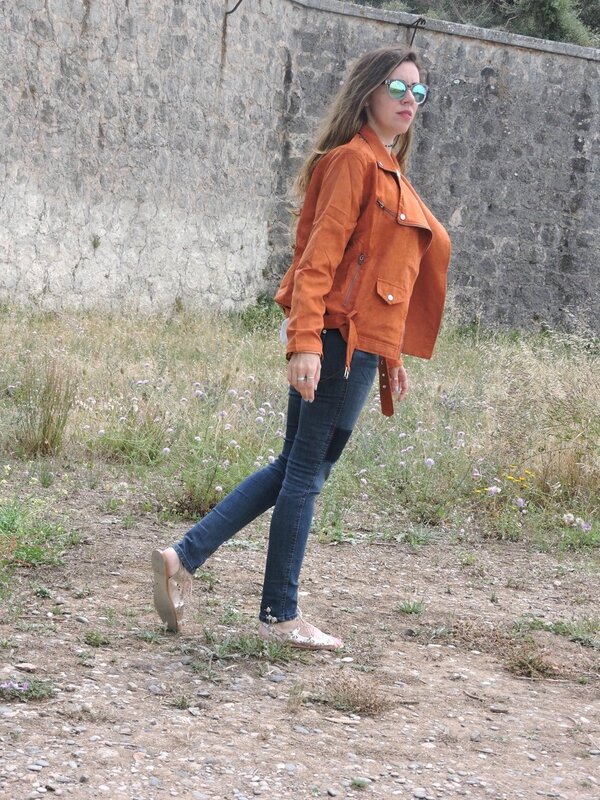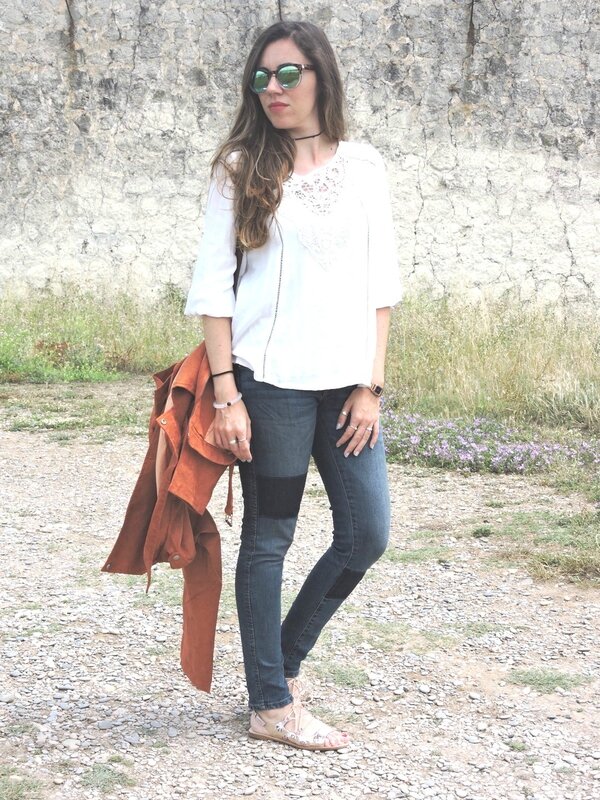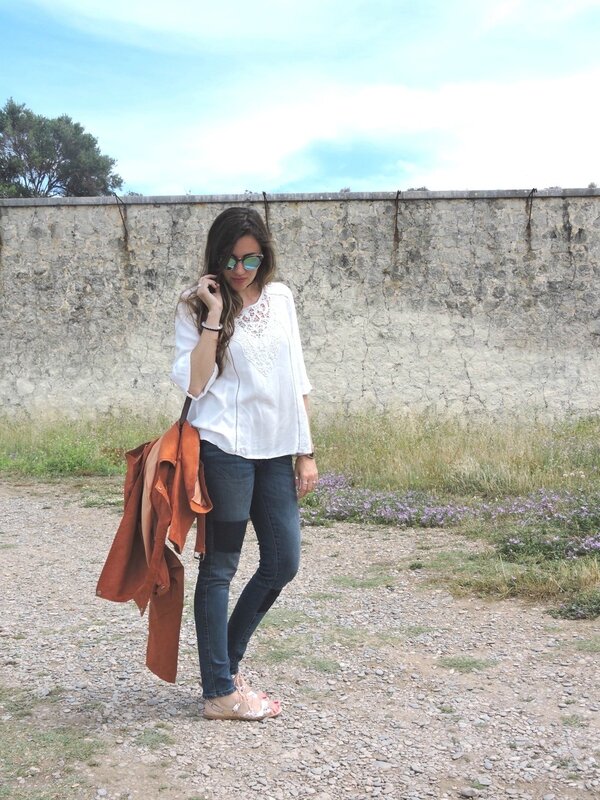 Get the look :
Sunnies : Mango ( sold out ) - Veste : SheIn - Blouse : Forever21 (old ) - Jeans : Zara (old )
Sandales : Zara kids
Bonjour vous !
Voici un nouveau look avec cette jolie veste de chez SheIn !
J'adore la couleur et la matière est parfaite pour ce temps qui est encore assez mitigé !
Et meme pour les soirs d'été elle est parfaite !
Les sandales prises au rayon enfant de chez Zara ... et y'a pas de mal ! ahah
Elles sont tellement mignonnes et confortables, on va pas s'en priver !
La blouse brodée vient de chez Forver21, je l'ai acheté il y a au moins deux ans mais elle reste indémodable !
Si vous comptez commander chez SheIn profitez en !
Les frais de port sont gratuits sans minimum d'achat jusqu'à ce soir !
Passez une belle semaine
La bise, V
Hey there beauties !
Here is a new look with that cute jacket from SheIn!
I love the color and the pattern
I think it's just perfect for that weather who is sometimes still glooooomy !
Also for a fresh summer night !
The cute sandals are from Zara kids ..and it's okay !! ahah
They are just perfect, comfy , a little shiny ! So why not ? eheh
If you want to order on SheIn it provides FREE Shipping ( With No Minimum Order) until tonight ! ( June14 )
I wish you a great week !!
Lots of love, V
07 juin 2016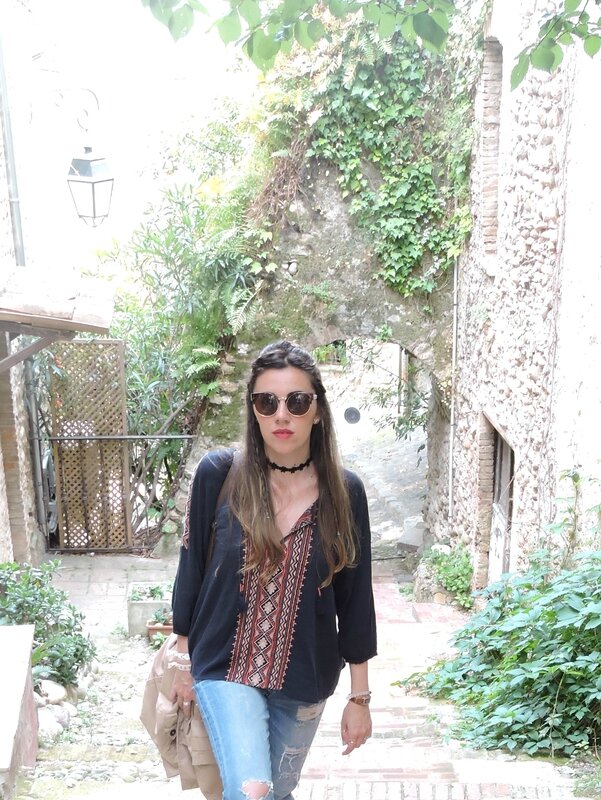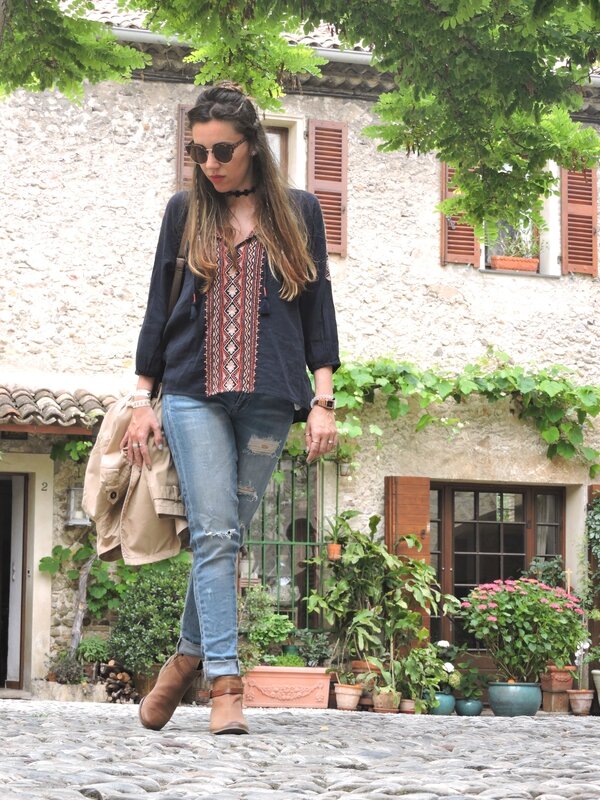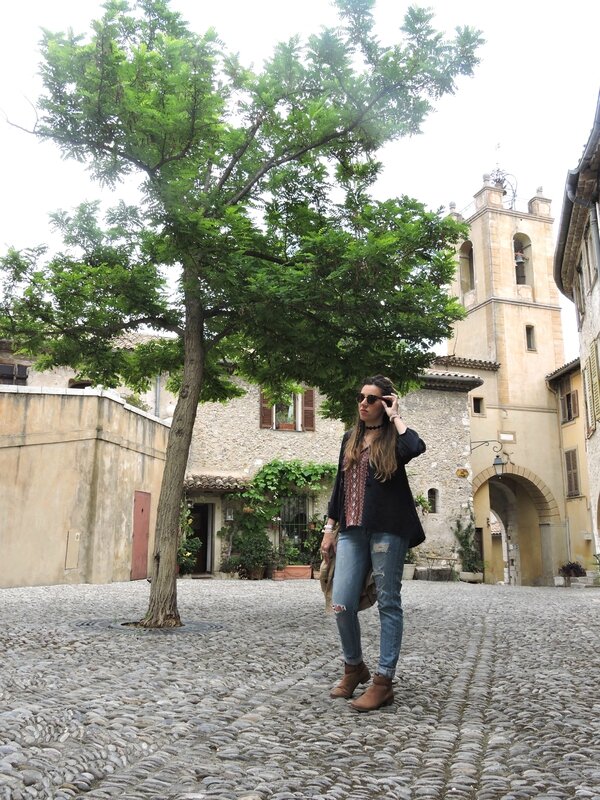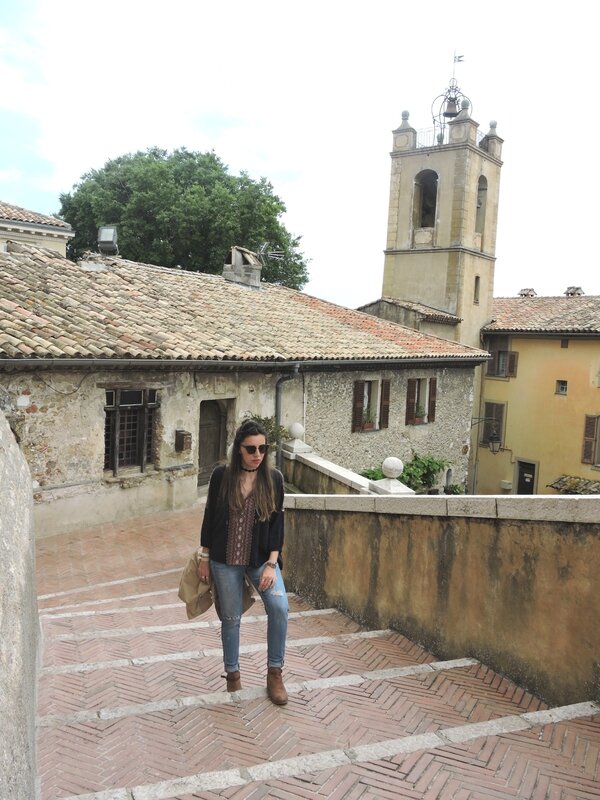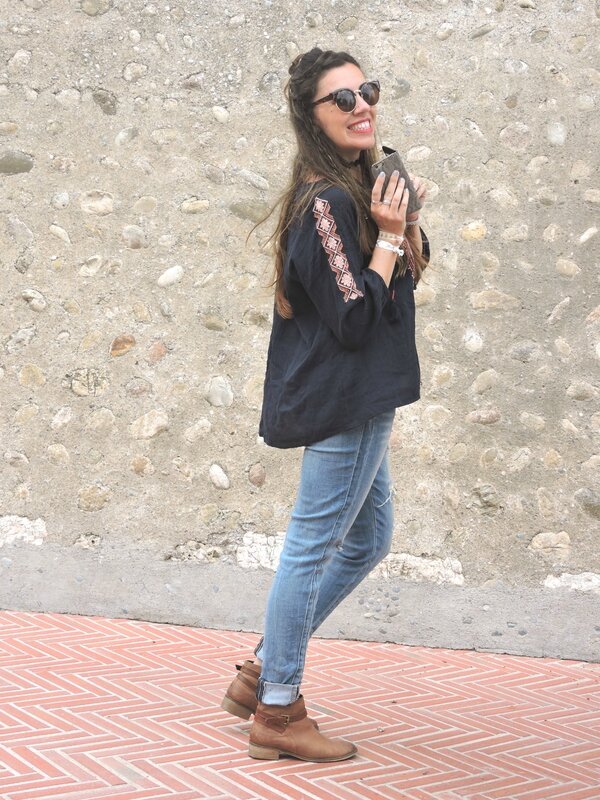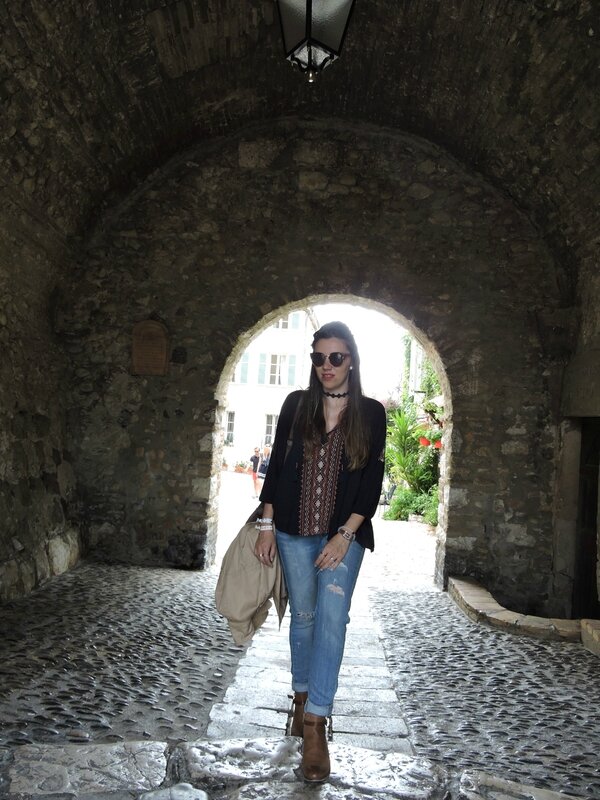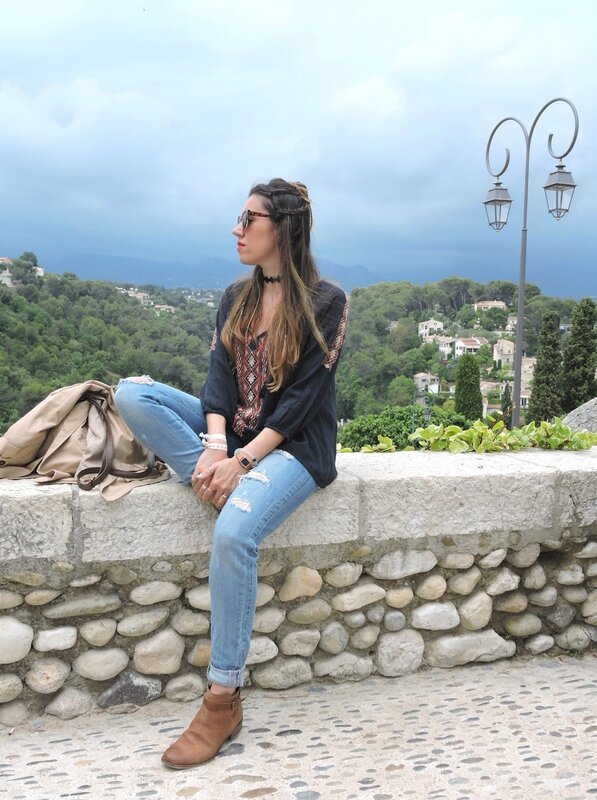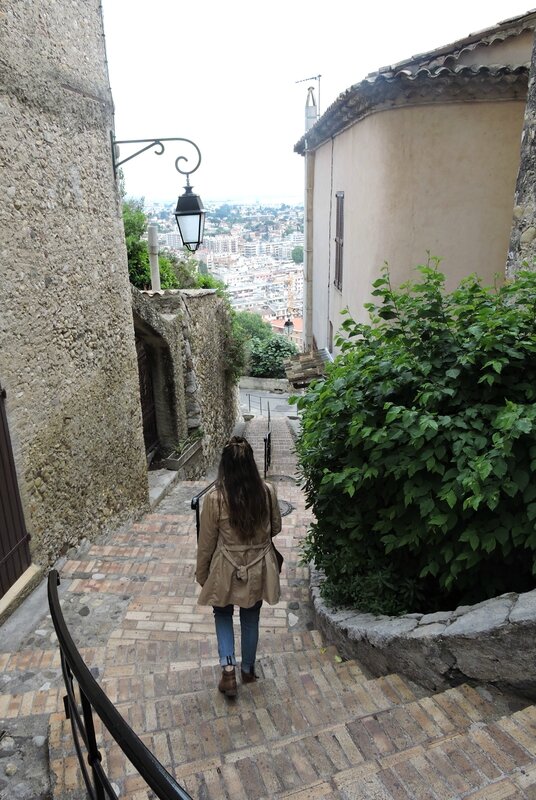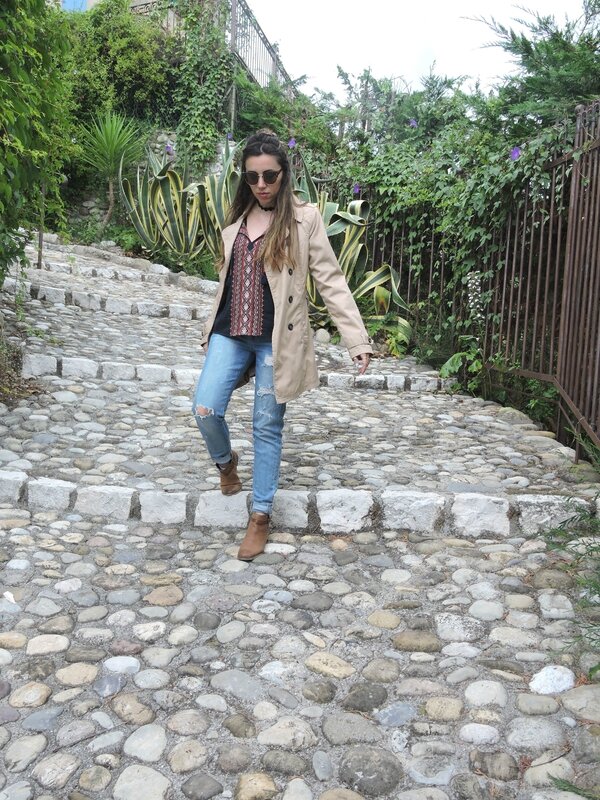 Get the look :
Sunnies : ZeroUv ( similar one here ) - Blouse : Hollister ( old similar here ) - Jeans : Bershka (old similar here ) - Boots from Portugal
Trench coat : Pimkie (old similar on Asos ) - Montre/Watch : Casio - Bracelet Lokai - Hair ties from Skin Feelings
Choker : Forever 21
Bonjour vous !
De retour avec un nouveau look composé uniquement de pièces moyennement anciennes et anciennes !
J'ai donc essayé de vous mettre en lien des vêtements similaires dans la mesure du possible!
Mis à part la montre que je ne vous trouve toujours pas surle site de Casio et les petits élastiques qui font aussi office de bracelets ( je vais pas m'étaler sur ça mais pour les filles qui comme moi ont toujours un élastique au poignet, on peut pas dire que ça soit super joli, bah là on peut lier le joli au pratique ! )
Mon bracelet Lokai est mon super allier, je l'ai déjà depuis des années et il me quitte rarement. Qu'on y croit ou pas, personnellement j'adore le porter !
Cette petite blouse de chez Hollister est super jolie! Je l'avais trouvée en solde l'année passée et du coup je suis contente de pouvoir enfin la porter !
Et mes petites tresses vous aimez ? J'ai improvisé ... Peut être que je regarde trop Game of Thrones ? ( bon j'en suis très loin hein, soyons clairs ahah )
Si l'endroit vous plait il s'agit du Haut de Cagnes (sur mer) , petite balade agréable entre les ruelles et glace à l'arrivée au château :D
Je vous souhaite une très bonne semaine !!
La bise, V
Hey there beauties !!
This is a new look with old pieces ! Well, most of them !
I tried to link similar one, as possible !
The last items are the watch that I just don't find on Casio's website ( booooh) and the cute hair ties ! ( just talk about them 1 second, if you're like me and always have a hairtie those are just the perfect one because they are so cute and are bracelets ! )
My Lokai bracelet never leaves me! I have it since years now and I still love it . Trust in or not, I feel good wearing it and I love its style so.... why not ?
They also make a lot of charity and this is a good idea.
About that cute blouse ? Well, found it on sale last winter and now I can finally wear it ! Yay !
What do you think about my hairstyle ? Just made those little braids awkwardly . Maybe I watch too much Game of Thrones ? ahha ( well, I'm so far let's be clear ahah )
And how pretty is the place we are ? It is a castel not very far from my home ina city called Cagnes sur Mer
It's relaxing and cute, and obviously at the top you can eat a good ice cream ! eheh
Have a great week beauties !
Much love
Xoxo, V
31 mai 2016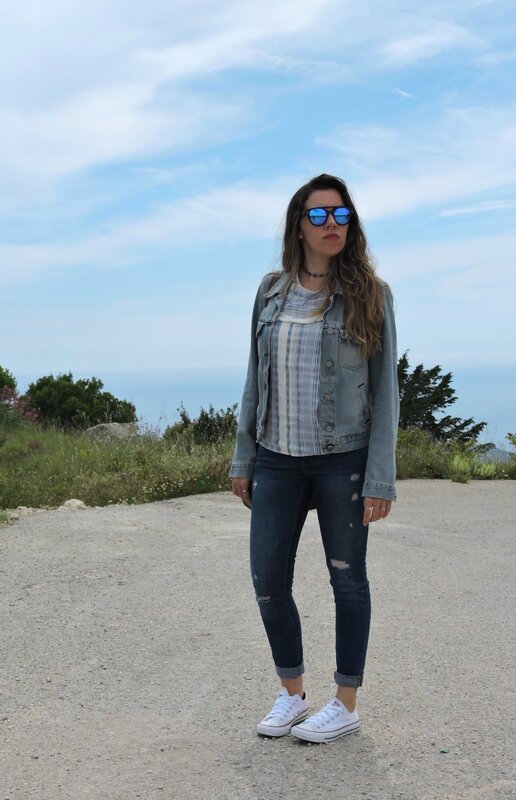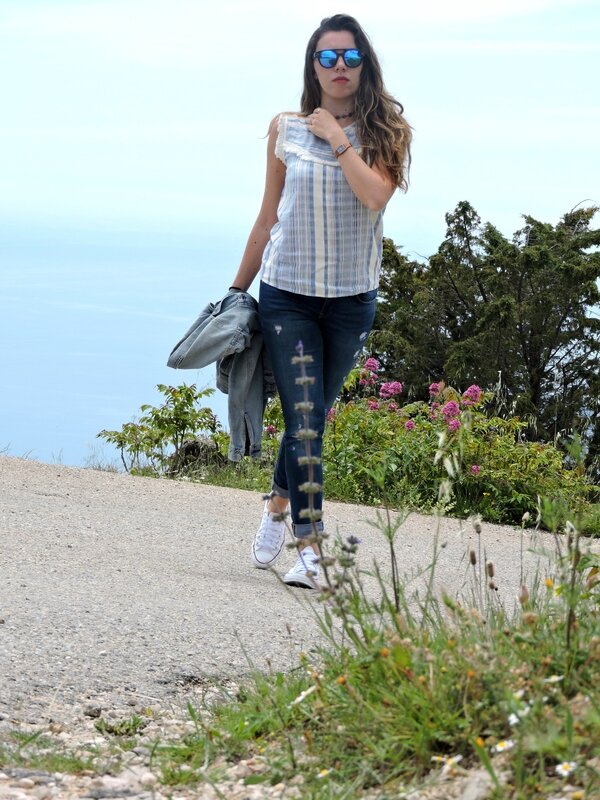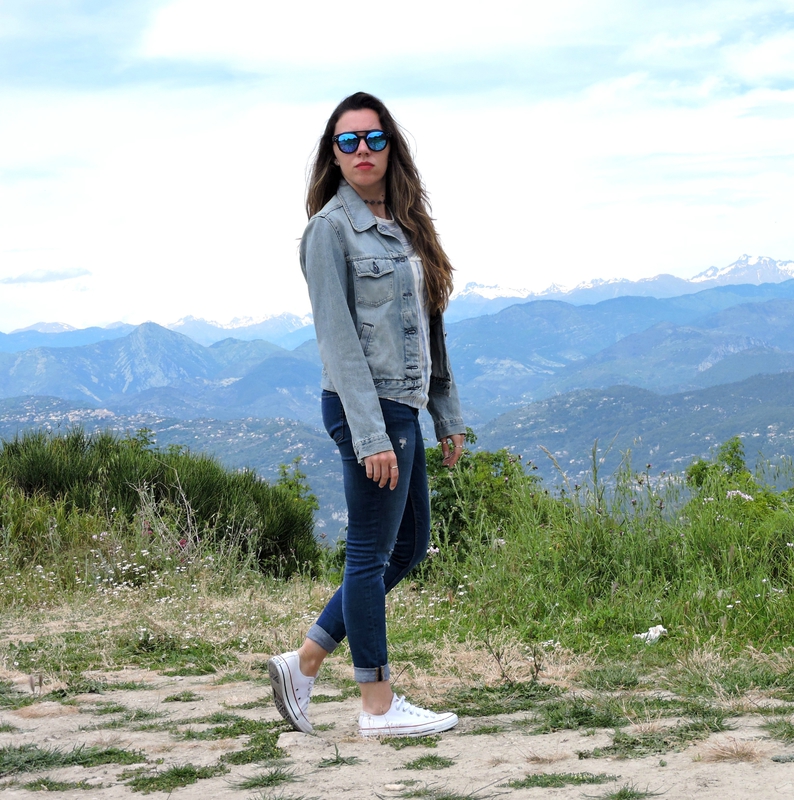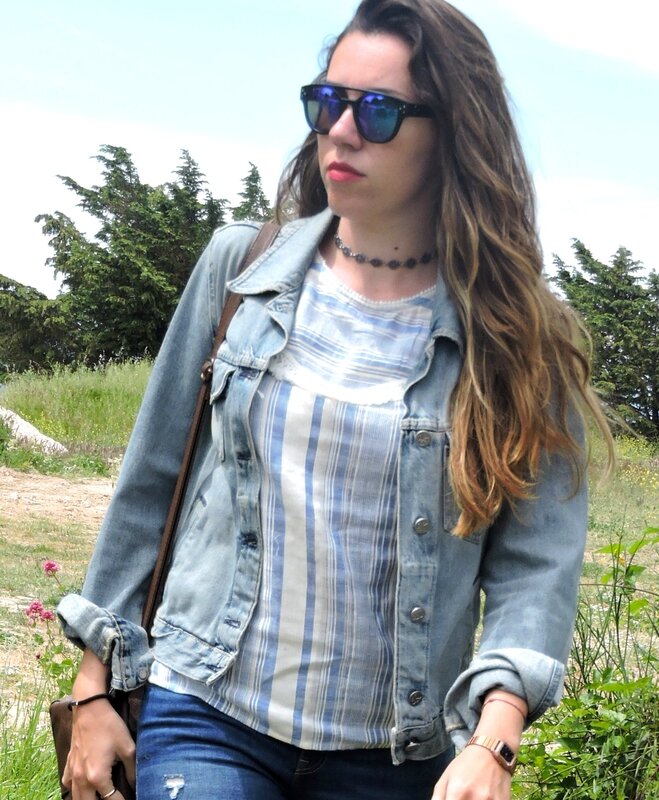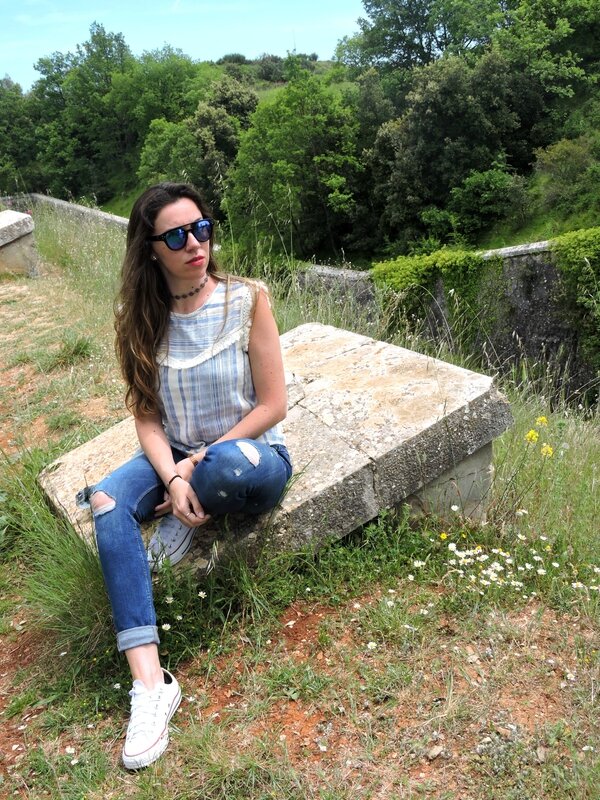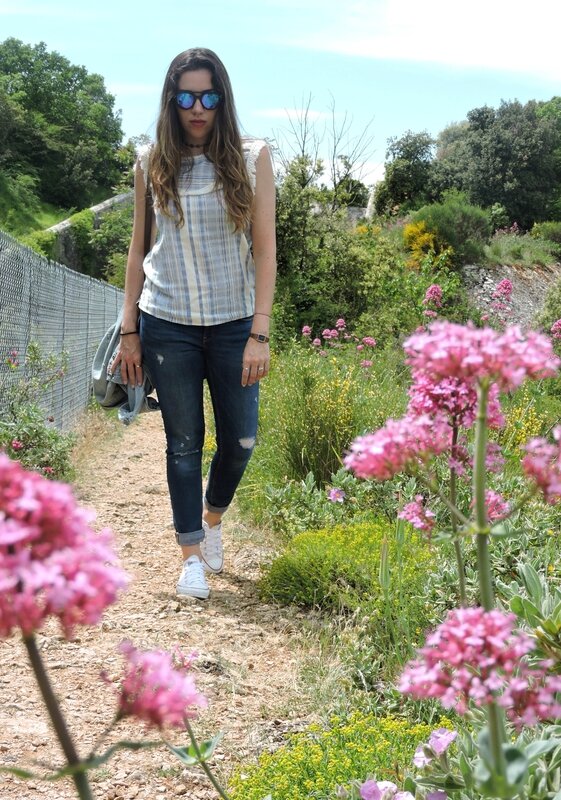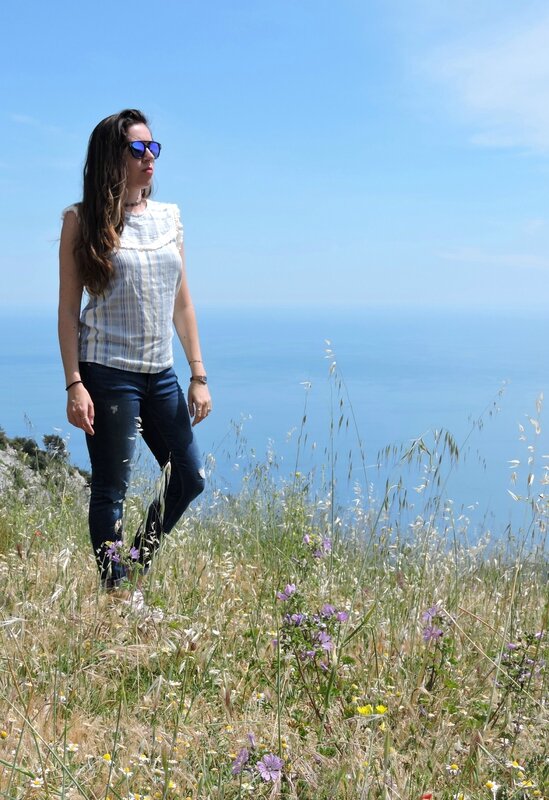 Get the look
Blouson en jean / Denim jacket : Calvin Klein (old similar here ) - Top : Primark - Jeans : Zara
Converse - Sunnies : Galeries Lafayettes (old) - Collier/Necklace : Forever 21
Montre/ Watch : Casio ( je ne la trouve pas sur leur site, don't find it on the website ! )
Bonjour vous !
Un nouveau look denim on denim aujourd''hui sur le blog car en tant que grande fan de jean je ne pouvais pas m'en passer, et je suis sure que vous ne m'en voudrez pas !
J'ai ressorti mon blouson Calvin Klein du placard ... je ne vous mens pas en vous disant qu'il a au moins 15 ans !
Il est indémodable, cultissime et surtout increvable !
Ce petit haut style chambray de chez Primark est super mignon et j'aime beaucoup ses rayures et le petit détail des franges
Le jean de chez Zara, un grand classique qui va avec tout !
Et les Converse refont surface avec les beaux jours !
Ce dimanche était magnifique, une belle balade au dessus du village d'Eze !
J'espère que ce look vous plaira !
Passez une bonne semaine,
la bise, V
Hello beauties !
Couldn't resist for the denim on denim look !
This Calvin Klein denim jacket is in my closet since at least 15 years.. for real !!! I got it since ages !! And it never gets old !
The whole look is very casual and yet super comfy for a good day walking in those beautiful places !
We can finally feel the heat coming and yes, it feels so good !!
What about that cute top ? Found it in Primark and I loved the little fringes details !
Hope you'll like this look !
Wish you a great week !
Hey ! It's almost June ! And you know what it means ??
My Birthday Month !! ahahah
Xoxo, V
24 mai 2016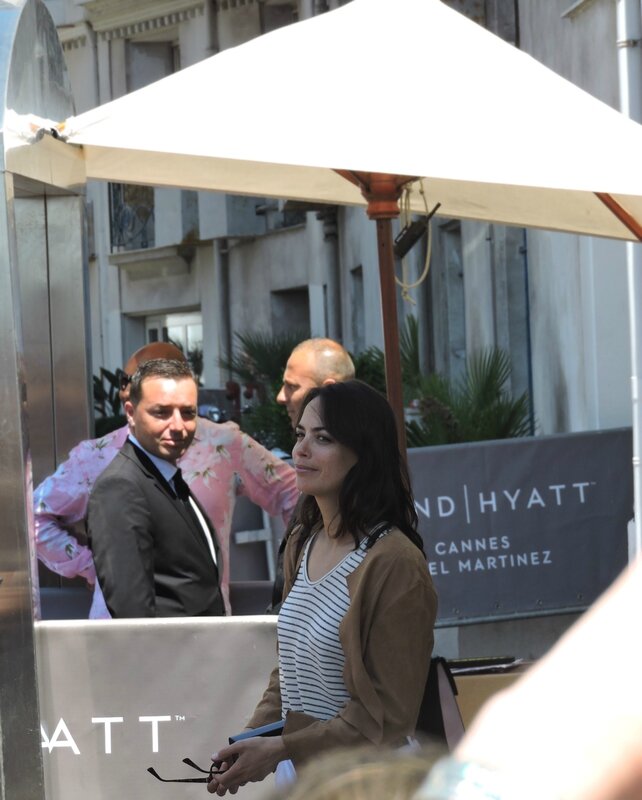 Berénice Béjo au Martinez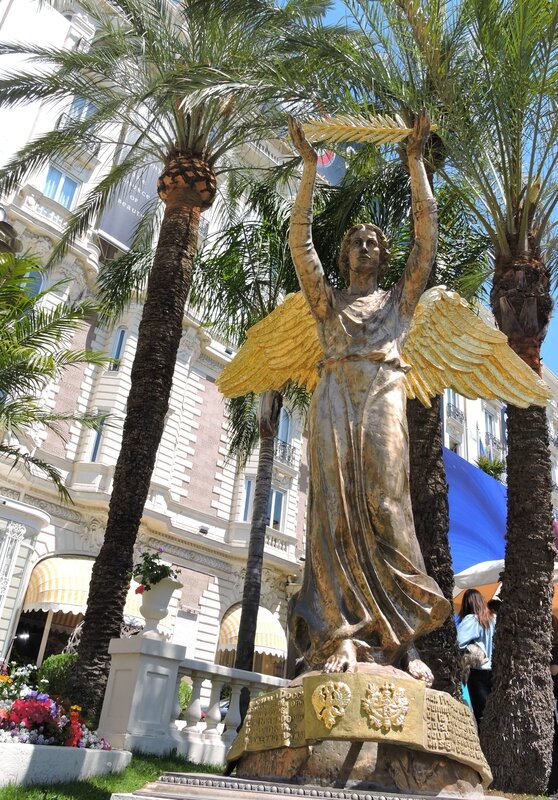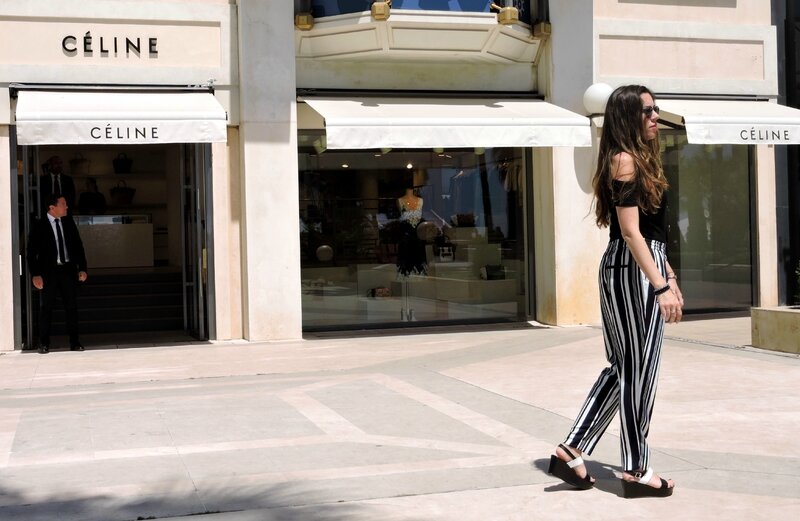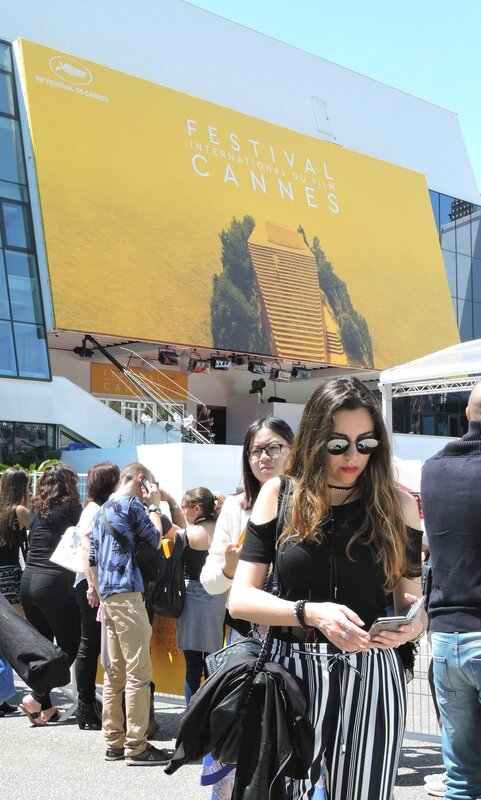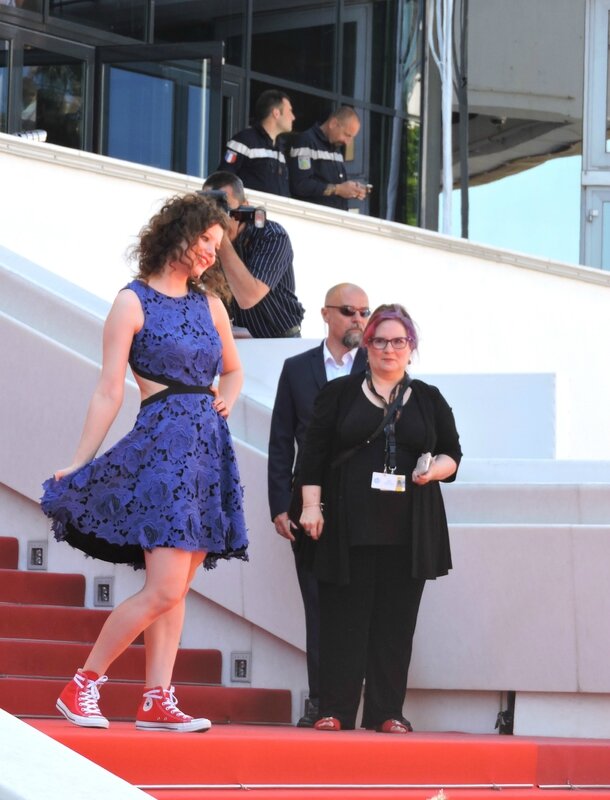 Actrice de House of Cards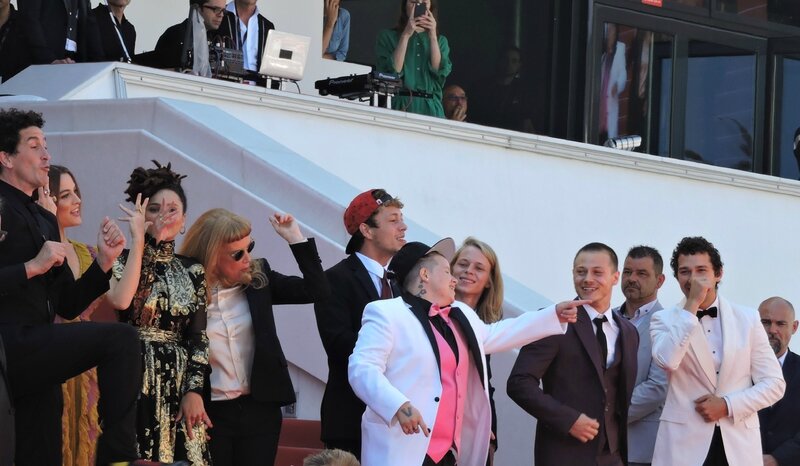 Squad du film "American Honey " qui danse sur les marches
Shia Labeouf dancing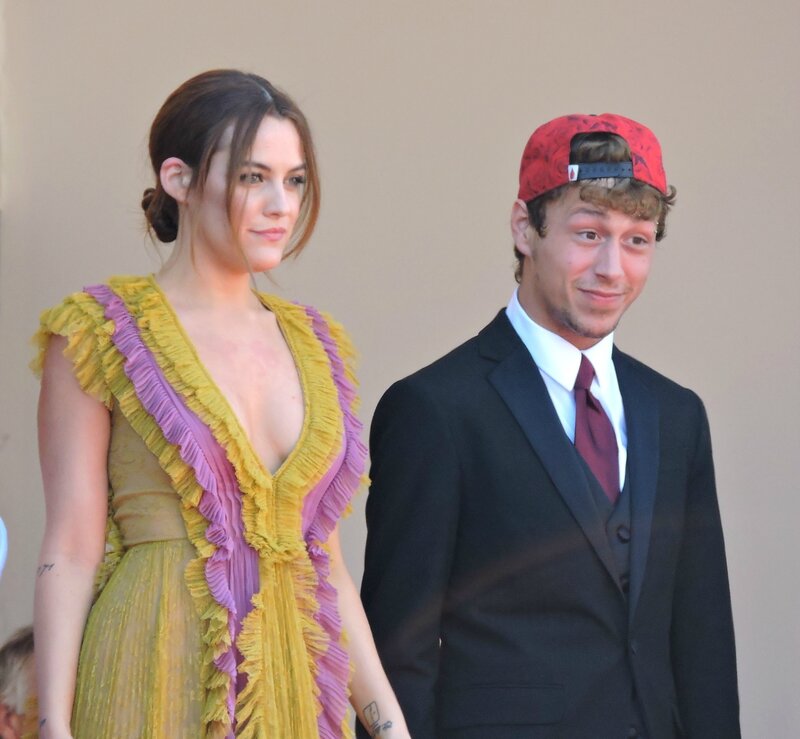 Riley Keough and actor partner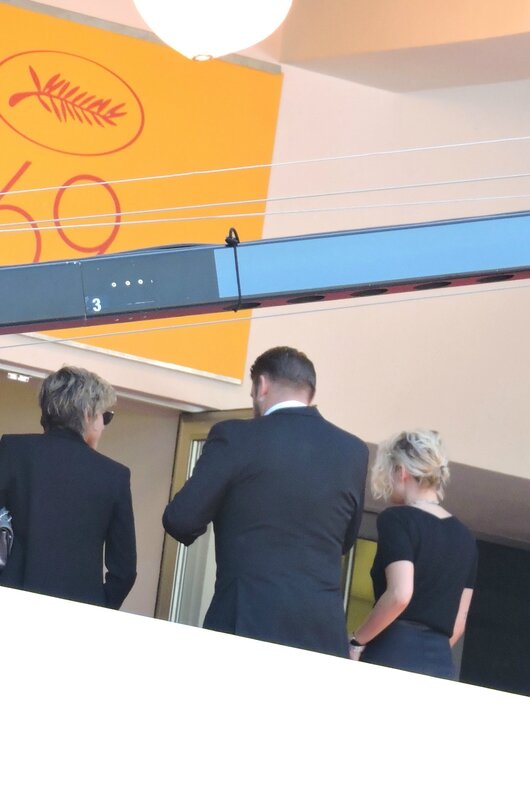 Verso of Kristen Stewart... :D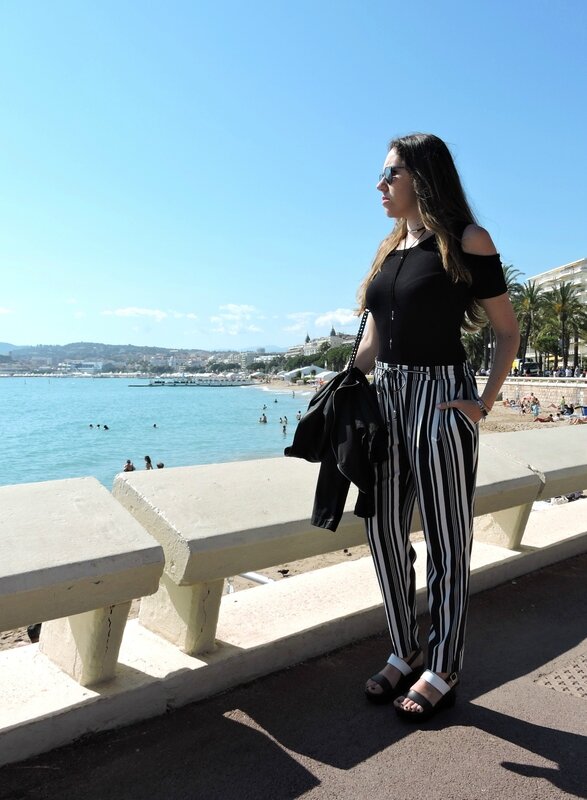 Get the look :
Sunnies : RayBan - Top : Bershka ( sold out similar here ) - Pantalon rayé / Striped pants : Zara - Collier/Necklace : Forver21 ( similar here )
Sandales : andré ( old )
Bonjour vous !
Ce post spécial Festival de Cannes est enfin en ligne !
Le Festival s'est terminé ce weekend et dimanche dernier j'ai finalement pu y passer une journée. Et honnêtement l'homme et moi on s'est éclaté !!
Beaucoup moins de monde que prévu ( tant mieux pour nous ! )
A peine quelques minutes à attendre devant le Martinez ( attente forcée en plus pour laisser passer les voitures officielles) qu'on a déjà vu l'actrice française Berenice Bejo ( photo ci dessus ) !
Il faut savoir que presque toutes les personnalités logent au Martinez !
Acteurs/ Actrices et même les blogueuses réputées ( Kristina Bazan , Songofstyle etc... )
Je ne les ai pas vu ! ( bouuuuh ) mais je me suis rattrapée par la suite !
Direction le Palais du Festival. Il est 15h. Première montée à 16h30 .
Nous voilà à attendre que quelque chose se passe . ( Gros coup de soleil à l'épaule gauche ahah )
La musique se déclenche, les gens arrivent, tout s'active !
On apprend qu'on peut rentrer juste au bas des marches même sans badge ! Alors hop ! On y va !
Arrive en premier une actrice de House of Cards , ne me demandez pas son nom .. oups !
Et vers 16h30 le speaker commence : " Et tout de suite la montée des marches de l'équipe du film American Honey ! Avec Shia Labeouf ( Transformers ) , Riley Keough ( The Girlfriend Experience ), ...... "
La musique part et ils se mettent tous à danser : ambiance au top !
J'ai filmé mais malheureusement la vidéo ne se charge pas .
Kristen Stewart arrive. Impossible de la photographier tellement ils étaient tous autour d'elle ! Et malheureusement elle ne s'est pas retournée en montant les marches
Donc son côté verso c'est tout ce que j'ai pu avoir!ah ah
Bref ! Superbe journée!
A refaire l'année prochaine !
Passez une bonne semaine !
Bise , V
Hey there beauties !
Finally my post special Cannes film festival !
We spent an amazing day with hubby.
We thought it would be full of people and finally not ! ( good for us ! )
We waited at the entrance of Hotel Martinez because we had to..and there saw french actress Berénice Béjo !
Most of the VIP are in that hotel !
This is also where you could find famous bloggers like Kristina Bazan or Songofstyle..
But I did't catch them ! ahah
We went until the famous red carpet and wait there about 1 hour when finally music starts and House of Cards actress arrives with her red Converse...so cute !!
Then it was the turn of "American Honey" squad ! It was so much then they were dancing on what I guess was the movie soundtrack !
I filmed it but unfortunately the video doesn't download..ouchh !
We will defnitely go back next year ! Even hubby loved it !
Hope you'll enjoy this post beauties!
Have a great week
Much love , V
18 mai 2016
Bonjour vous !
Comme vous êtes nombreux a avoir apprécié mon post précèdent avec la combinaison de la marque SheIn j'ai décidé de vous créer une liste d'envie de divers articles pour cet été !
Hi beauties !
I saw that you enjoyed my last post wearing the jumpsuit from SheIn and so I thought I would create a summer wishlist !
Robes / Dresses :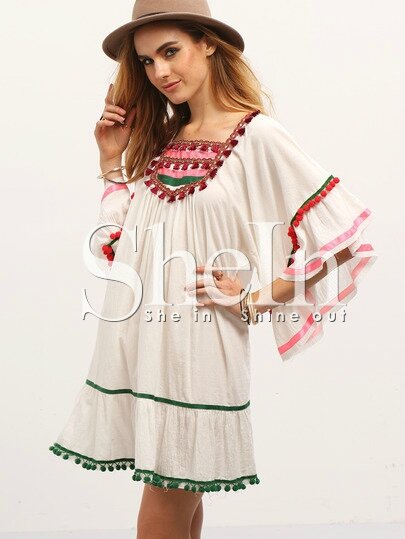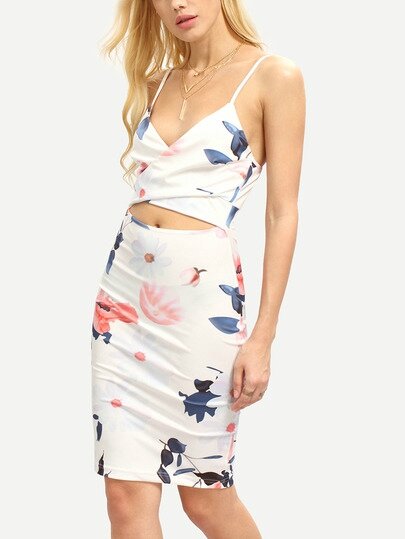 Top :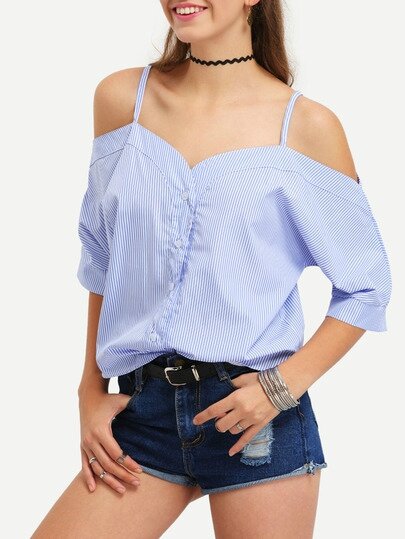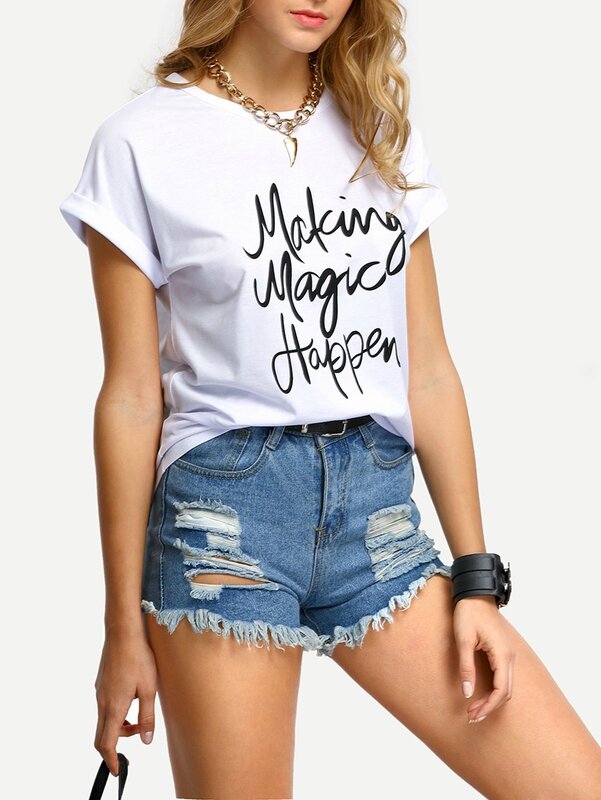 Shorts :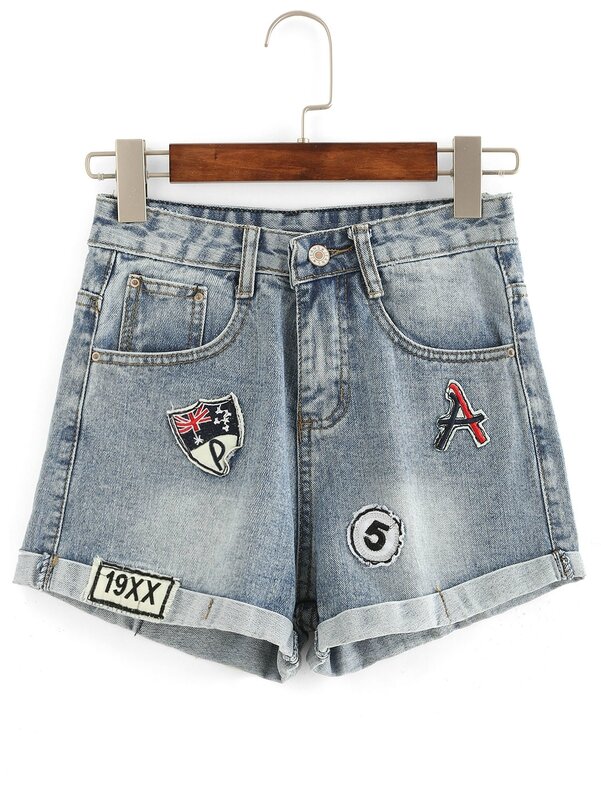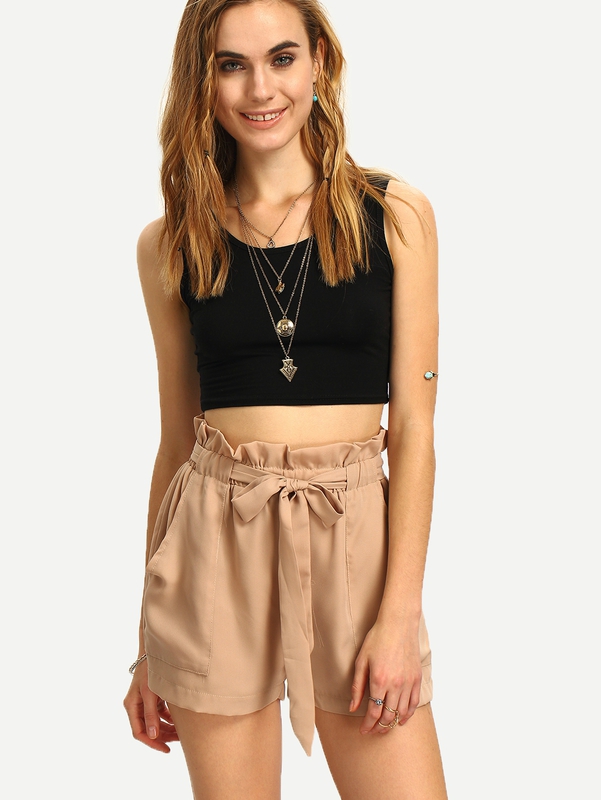 Jupes / Skirts :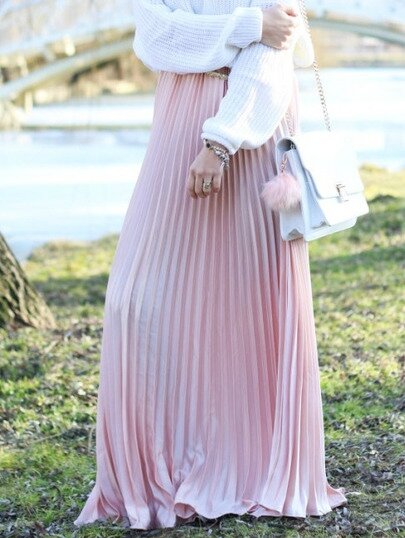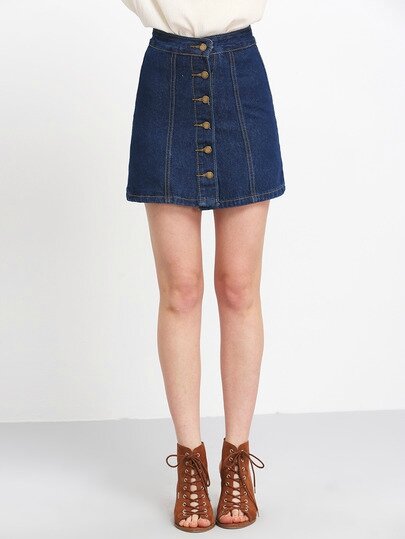 Combinaisons - Combishorts / Jumpsuits - Rompers :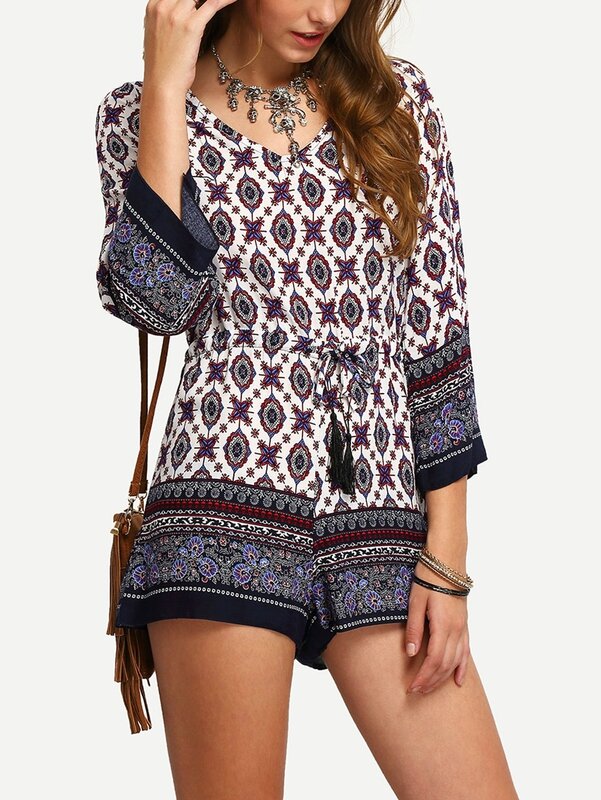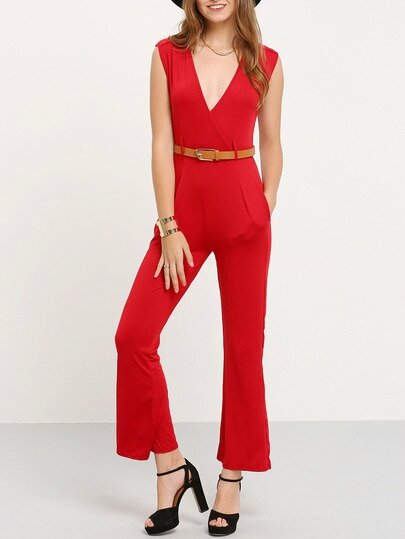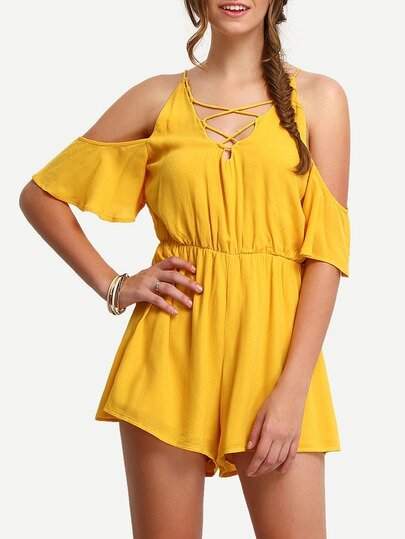 Voilà ! J'espère que vous trouverez votre bonheur ! Et n'hésitez pas à visiter le site, il y a beaucoup de choix !
Bonne fin de semaine
La bise, V
And here we go ! I hope you'll find something you like ! But I'm pretty sure of it !
Have a great end of the week !
Xoxo, much love , V
New on Bloglovin' !
17 mai 2016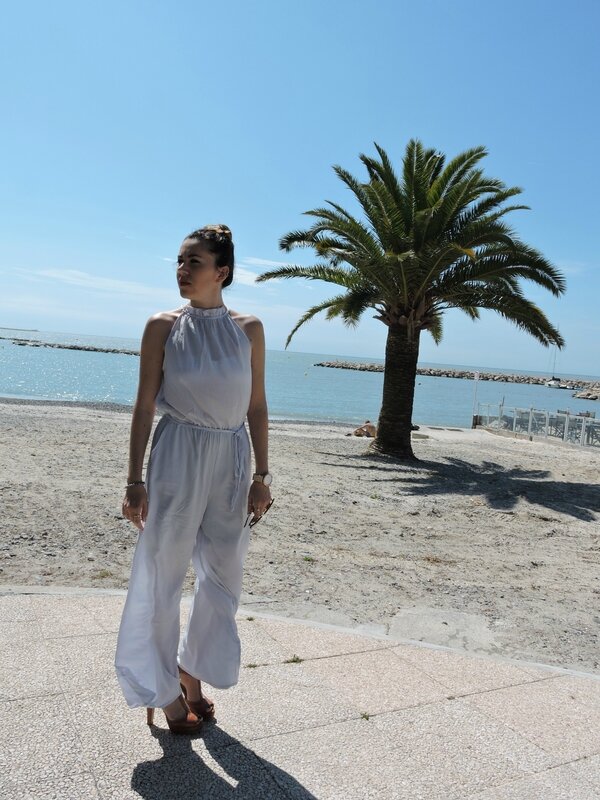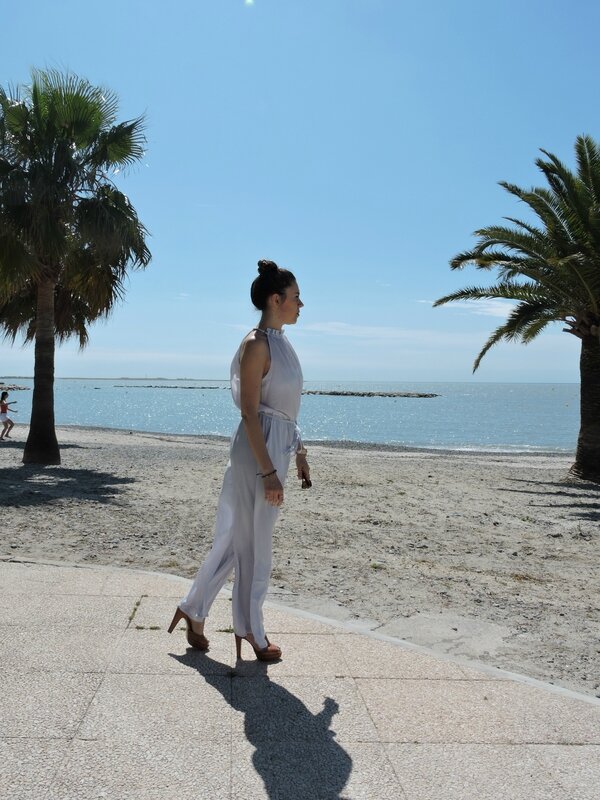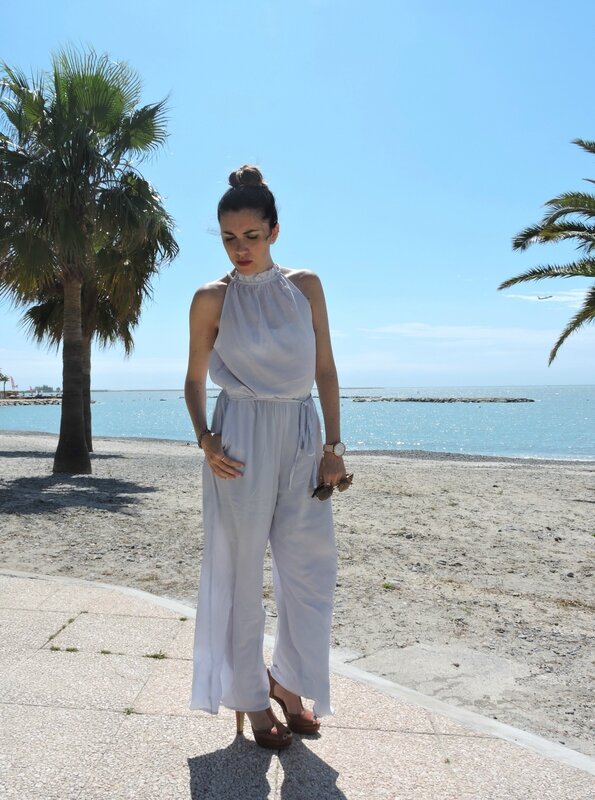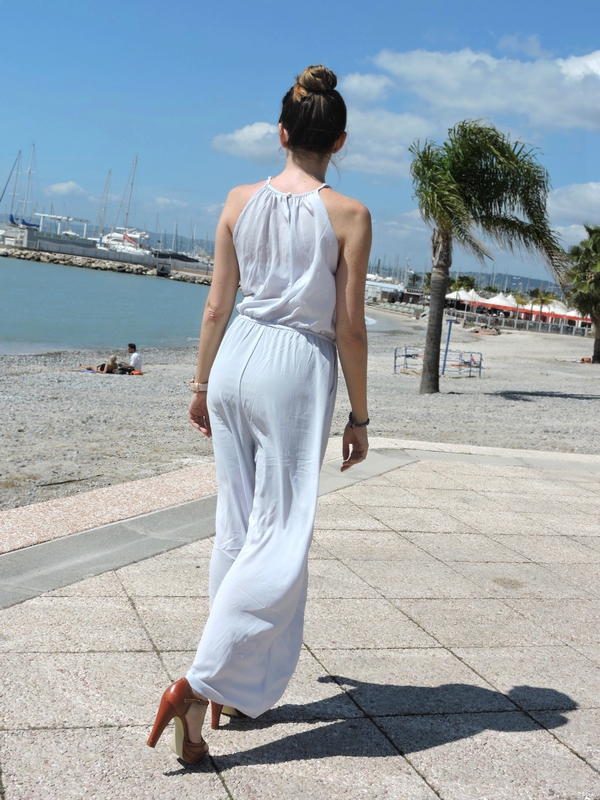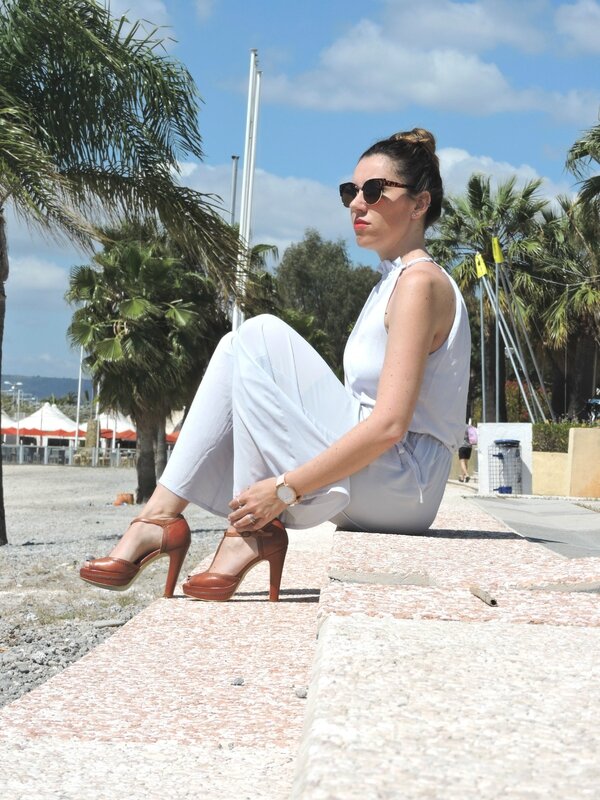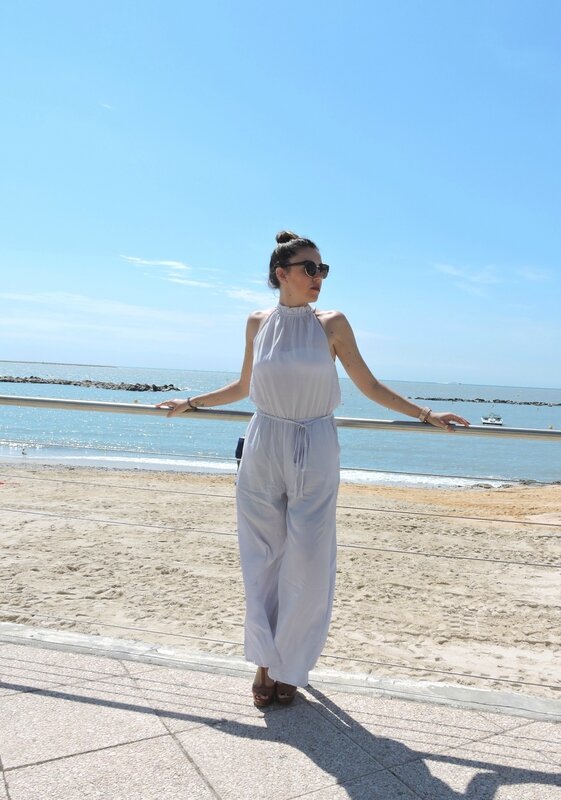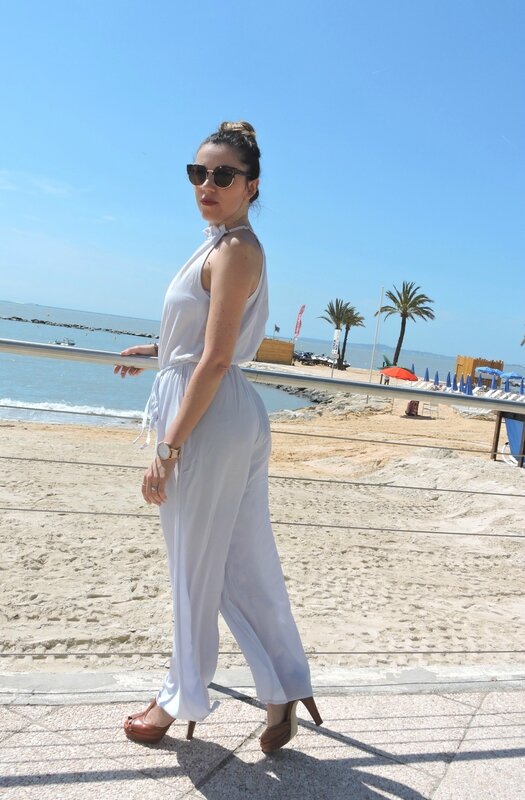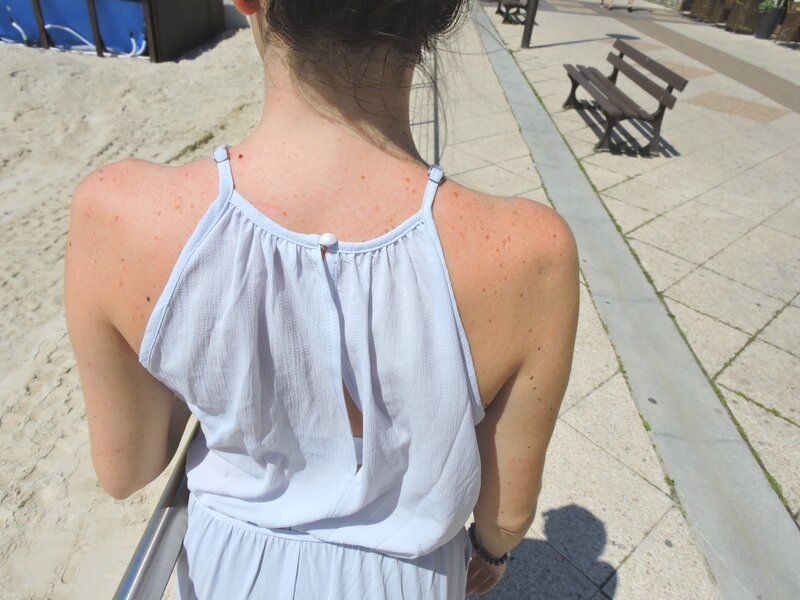 Get the look :
Combinaison / Jumpsuit : SheIn - Sandals : André ( old ) - Sunnies : ZeroUv - Montre/Watch : Christian Paul
Bonjour !
Un look qui change de ce que je porte habituellement !
Mais en cette période de Festival de Cannes ( bientôt un post spécial Festival ! )on est jamais en manque de tenue un peu plus chic !
Je suis accro aux combinaisons en ce moment et voici celle que j'ai choisi sur le site SheIn !
Une matière très légère type mousseline, une jolie encolure aussi bien de devant que de derrière, une coupe large et des poches pour la touche plus décontractée !
On a eu de la chance ce jour là ! Il y avait beaucoup de vent et du coup le rendu est encore meilleur!
Il montre le côté très vaporeux et aérien de la matière !
J'ai adoré ce look, combiné à une paire de talons à plateforme que j'avais déjà dans mon dressing .
Je vous invite à aller visiter leur site si vous ne connaissez pas encore !
Il y a beaucoup de modèles à des prix très compétitifs ! ( Attention, certains articles taillent parfois petits )
Bonne semaine !!
Bises, V
Hello beauties !!
Here is a new look that changes from what I'm usually wearing !
but in this period of Festival de Cannes (soon a blogpost ! ), a classy outfit is never too much ! :D
I have a kind of addiction for jumpsuits lately ! And this is the one I choose on SheIn website .
I love the pattern, it's really light and perfect for hot days ! Also, this soft grey is great and goes with everything.
It has pockets! yeah ! I love pockets on jumpsuits and here it's just perfect.
And finally something important : the price .
You surely all know Shein and so know that the prices are really attractives.
This jumpsuit is under 20$ !!
We ve been lucky, it was windy that day ! And so it gives the pattern all its aerian magic ! :D
And I thought those sandals were perfect for this combo !
I hope you'll like this look beauties !
Have a great week !!
Much love , V