08 février 2018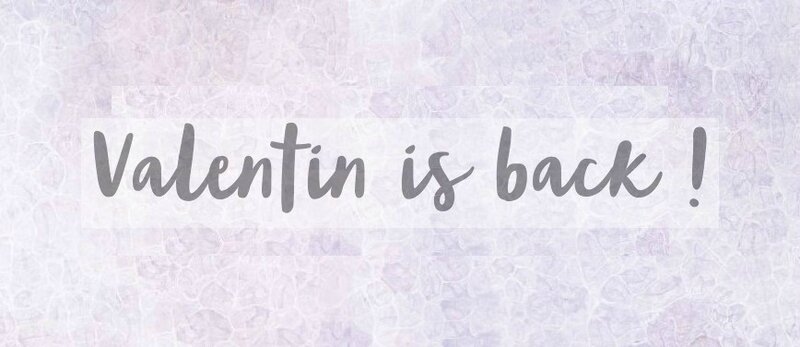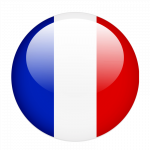 Bonjour vous !!
J'ai pensé vous concocter rapidement un petit article sur des idées cadeau pour ELLE et pour LUI !
J'espère que cela vous donnera un petit coup de pouce !
Est ce que vous fêter la Saint Valentin ? Comment allez vous la fêter cette année ?
Pour ma part cette année peut être une petite sortie en amoureux! Depuis que l'on a eu notre fille nous ne sommes pas sortis que tous les deux alors pourquoi profiter de l'occasion !
ah! Et j'aimerais des fleurs, chéri.. si tu me lis !! ahah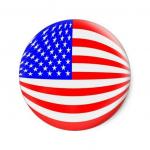 Hi beauties !
I thought that I would share a little gift list for this Valentine's day !
I hope it can help !
Do you celebrate V-Day ? How are you going to celebrate this year ?
This year we will maybe go out just the two of us ! Since babygirl is here it will be the first time and maybe it's the occasion to do it !
Oh and flowers ! Hubby, if you read me... I want flowers ! ahah
Pour ELLE / For HER :
1 - Bague Paul Hewitt / Paul Hewitt ring
2- Parfum Miss Dior, un de mes parfums préférés! / Miss Dior, one of my favorite fragrance !
3 - Lingerie Adore Me
4- Le pull à message / Messages Sweat : Wooop !
Pour LUI / For HIM
1- Montre Daniel Wellington / DW watch
3- Smartbox
Pour les 2 / For both !
Abonnement/ Box Produits de Beautés!
En lien plusieurs sites qui le proposent / Links from several websites :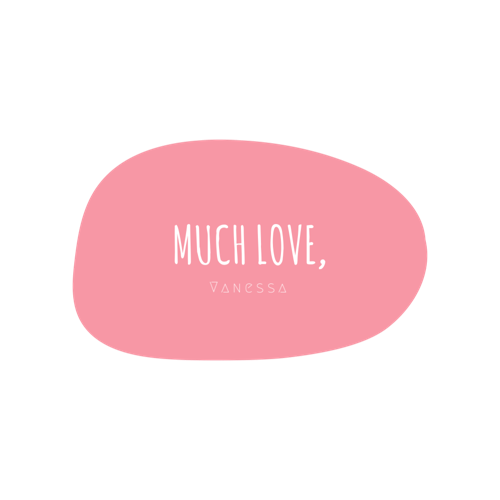 05 février 2018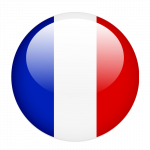 Bonjour vous !
Alors je ne sais pas ce qui se passe mais en ce moment je suis à fond dans le rouge et même le rose !
Est ce le fait d'avoir eu une petite fille ? ahah
Bon c'est pas plus mal vu que le rouge est super tendance en ce moment !
J'espère que vous avez passé un bon week-end!
Ici nous avons fêter les 1 an de ma fille chérie !
Voici un nouveau look avec le même sweat que dans le look précèdent !
Je le porte en boucle... Ooops!
J'espère que ce look vous plaira !
Toutes les pièces sont en soldes! ( mis à part le sac )
Je vous souhaite une très bonne semaine !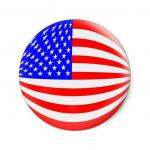 Hi beauties !!
So I don't know why but I'm loving red and pink those days !
Is it because I had a babygirl ?
I've never worn that color so much !
The good thing is that red is trendy so it's a YAY !
Hope you had a great week-end !
Here we celebrated my babygirl's first birthday !
This is a new look with the same sweat than my last post.
I'm wearing it on repeat...Ooops !!!
PS: it's all on sale ! ( not the bag, for sure ahah )
Hope you will like it !
Have a great week !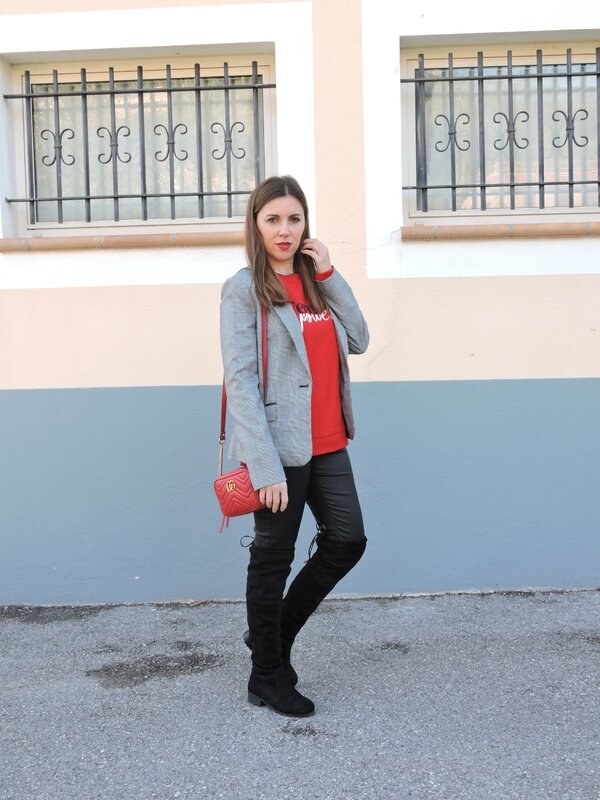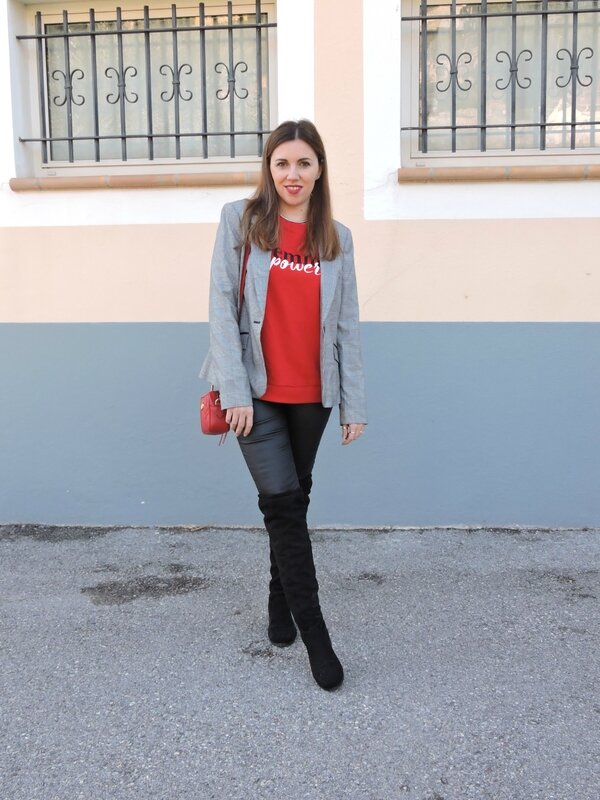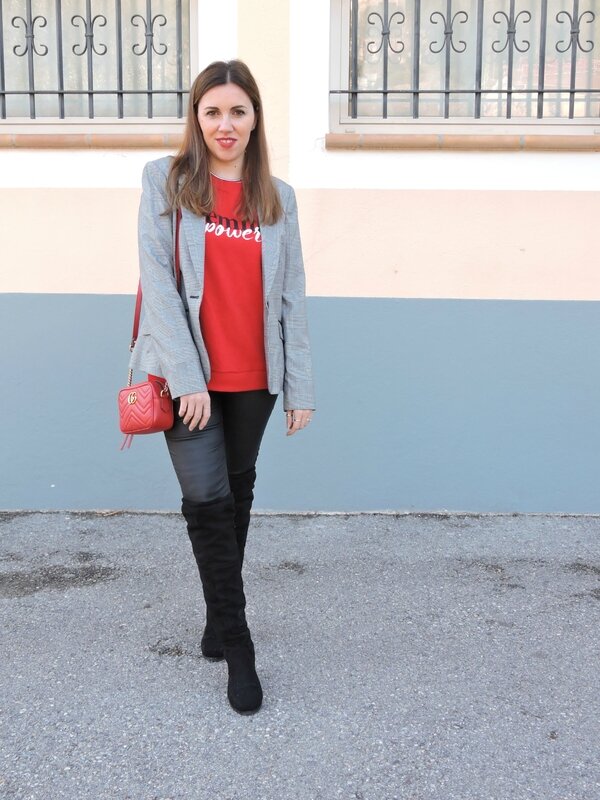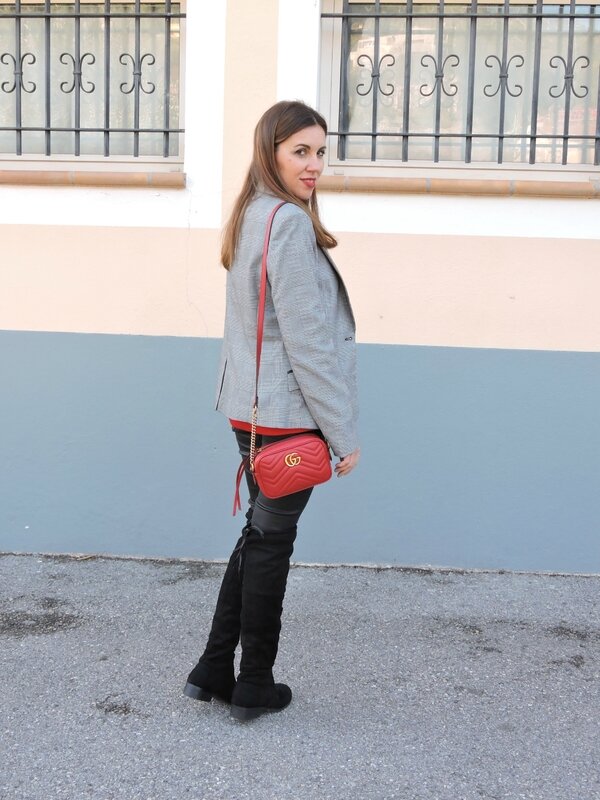 Get the look :
Blazer : Mango similar to this one ! ON SALE
Sweat : Stradivarius ON SALE
Pants/ pantalon : Stradivarius ON SALE
OTK boots / cuissardes : Asos similar here ON SALE
Bag/sac : Gucci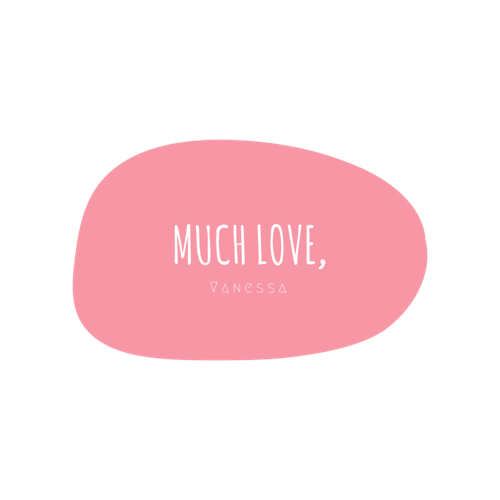 24 janvier 2018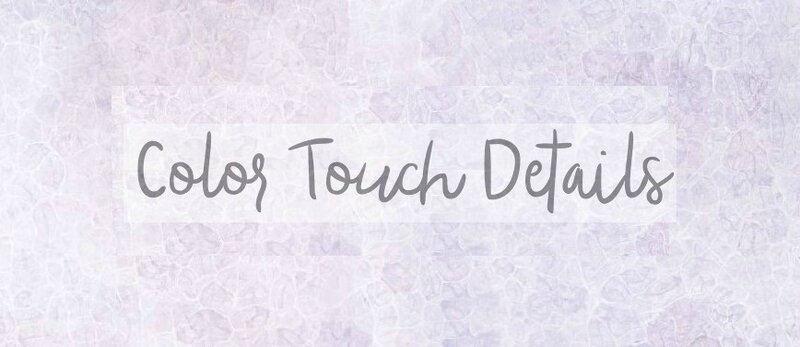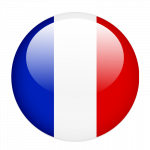 Bonjour vous !!
J'espère que vous allez bien et que vous avez super bien commencé l'année !
Fraichement rentrée du Portugal pour ma part. Des bons moments en famille et des jolis souvenirs plein la tête !
Mais me revoilà avec un nouveau look !
Toujours aussi fan du bordeaux j'aime l'intégrer aussi par petites touches!
Et que pensez vous de ma jolie bague de chez Paul Hewitt ?
Toute fine et délicate! Je l'adore !
J'espère que ce look vous plaira
Passez une belle semaine !!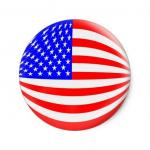 Hi beauties !!
I hope you started this year in a great way !
I'm freshly back from Portugal when I had a great time with my family! Coming back to France with awesome memories!
And now it's time to be back in the game with a new look!
You know how much I love burgundy! So I always enjoy to add a little touch !
How pretty is that ring from Paul Hewitt ?
So delicate!
Hope you will like this look !
Happy new week !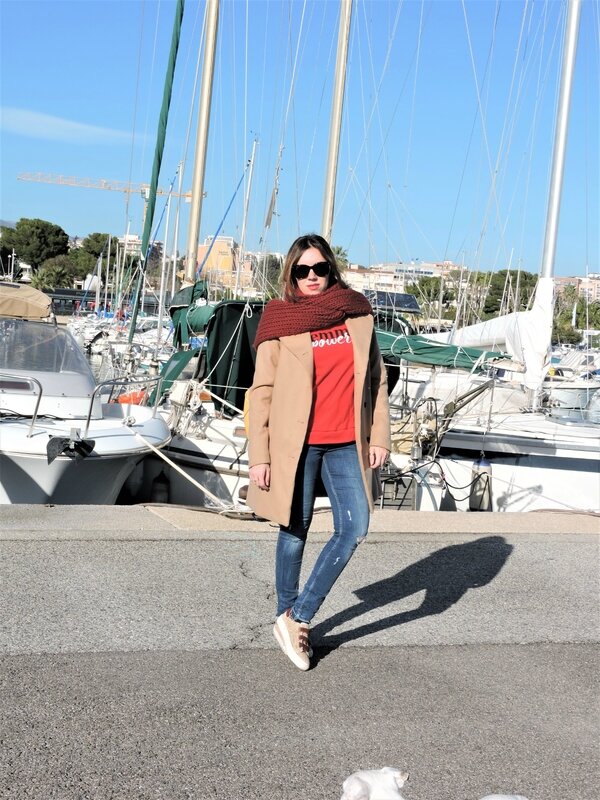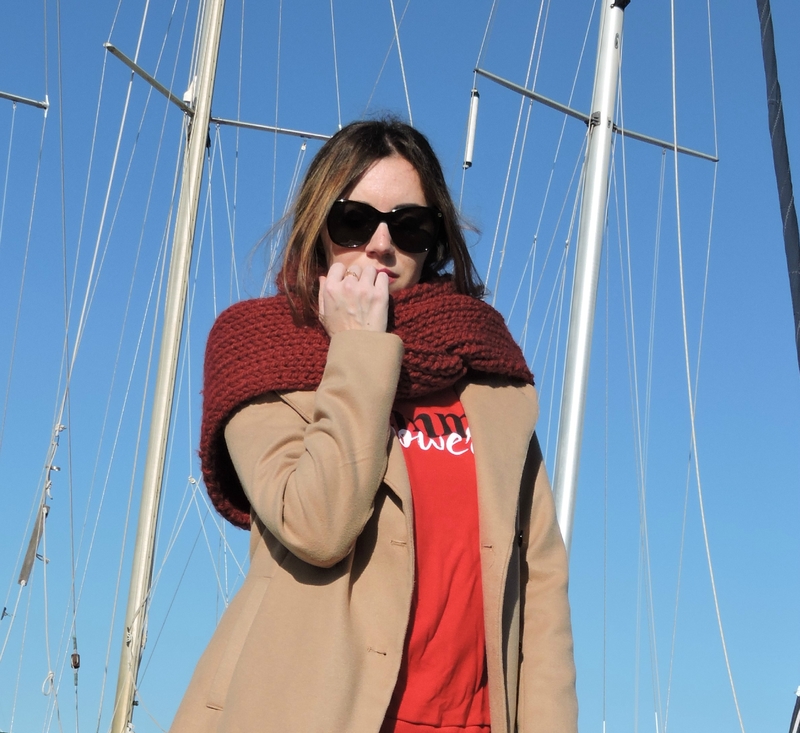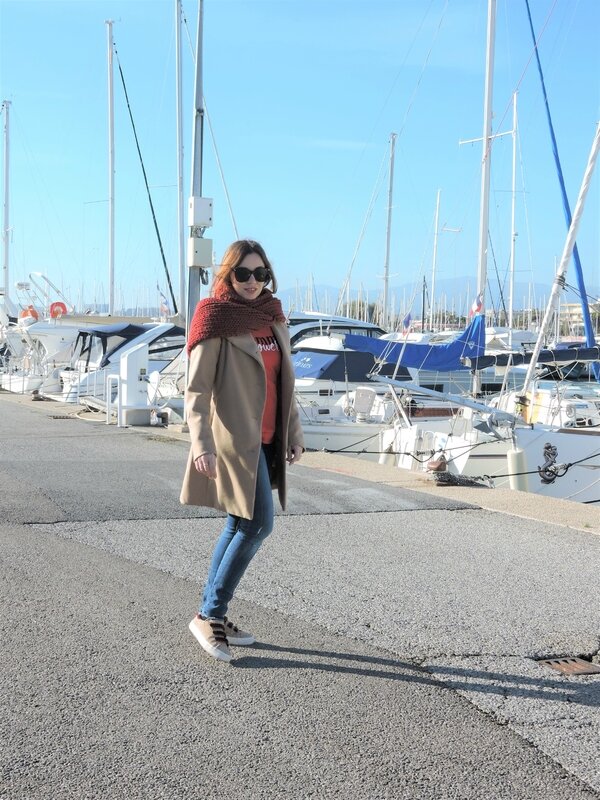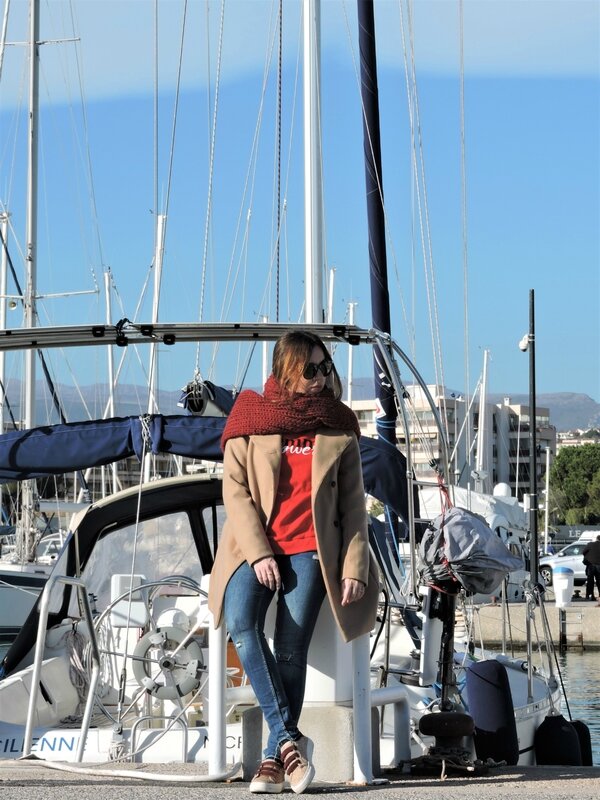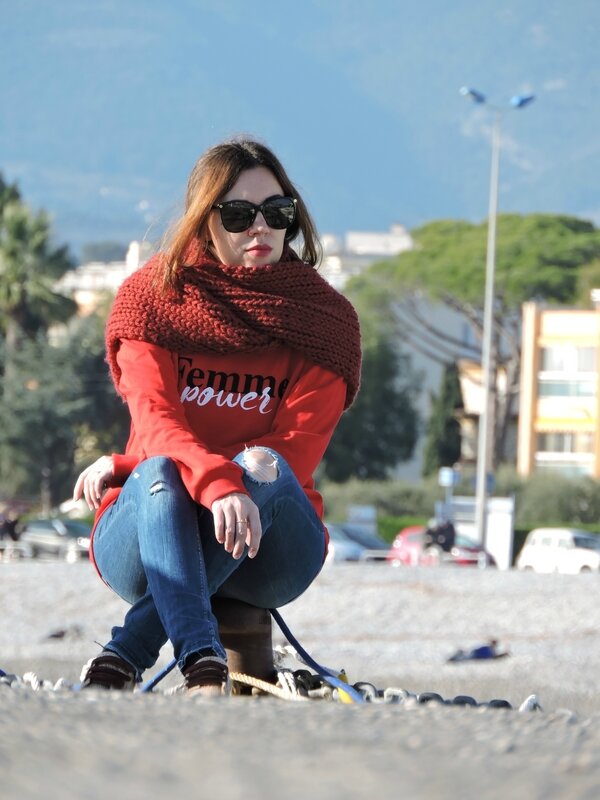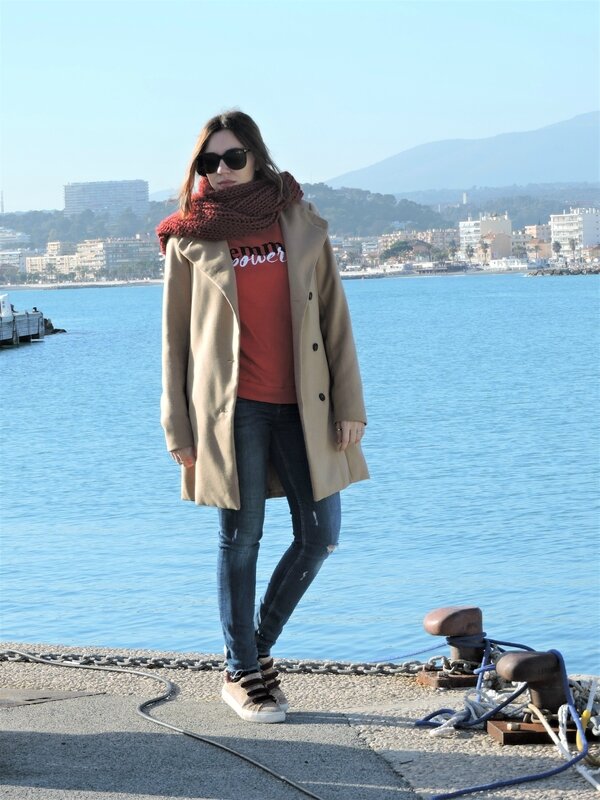 Get the look :
Solaire : Gucci
Bague/Ring : Paul Hewitt
Coat / Manteau : Pull and Bear (similar here )
Jeans : Zara
Sweat ( ON SALE ! ): Stradivarius
Sneakers : No Name ( same here in another color )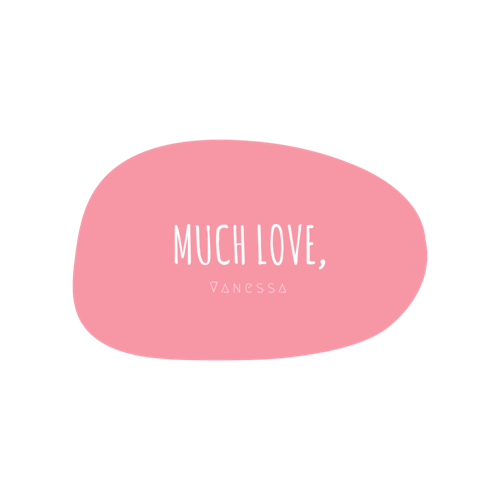 03 janvier 2018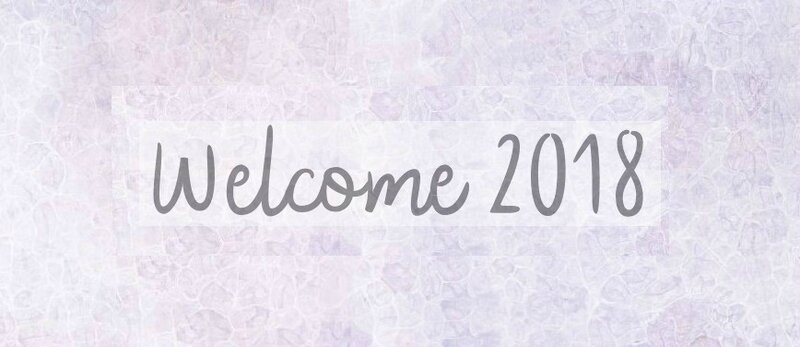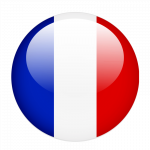 Bonjour vous !!
Premier post de l'année !
J'espère que vous avez passés de très belles fêtes !
Alors je ne vais pas vous parler de "bonnes résolutions" etc ... Pourquoi ?
Parce que je n'y crois pas du tout! Honnêtement, qui se tient à ses résolutions ?
Les bonnes décisions, les bonnes choses, c'est toute l'année qu'il faut les appliquer ! Bah oui !
2017 a été une année riche en émotions placée sous le signe de l'amour, et surtout l'amour maternel!
Car 2017 est l'année où je suis devenue Maman pour la première fois et c'est donc une année qui restera gravée à jamais.
Voilà pourquoi je ne vous ferai pas de récapitulatif de mon année ( comme certaines me l'ont demandé sur instagram) car c'est très simple, l'highlight de mon année c'est ma fille! ( et elle le restera à jamais d'ailleurs ahah )
En 2017 j'ai également perdu mon emploi. Ce qui n'est pas toujours très facile à gérer.
Je n'en ai pas parlé sur les réseaux car comme le dit mon pseudo "onlybrightness" j'ai choisi de partager que le positif !
Ce sont des sourires que je veux afficher aux lèvres des gens !
Mais celui ci a été remplacé par le plus beau rôle de ma vie , qui m'a aider à faire passer la pilule.
En 2017 beaucoup de décisions ont été prises ! Mais suspense... Je me dois de rester mystérieuse car rien est fait pour le moment.
Je peux donc vous dire que le mot pour l'année 2018 sera "changement" !
Je sens que je ne vais pas m'ennuyer ( une fois de plus ahah )
Je vous en dirai plus bientôt , mais pour le moment je vous souhaite une merveilleuse année 2018
Pleine d'amour, de bonheur, de projets de nouvelles perspectives..
Je tiens également à vous remercier
Nous sommes de plus en plus nombreux sur mon compte Instagram ( environ 13 000 abonnés ! ) et j'en suis ravie!
La barre des 17 000 a également été dépassée sur le blog et je suis super heureuse de constater que je suis lue !
La qualité prime sur la quantité !
Merci, merci pour le soutient, les gentils mots et la positivité!
En 2018, encore plus de contenu sur mon compte instagram , avec toujours des looks, des photos du quotidien mais aussi encore plus de présentations de produits où comme toujours je vous donnerai mon avis honnête !
Encore Bonne Année à tous !
Bisouille,
V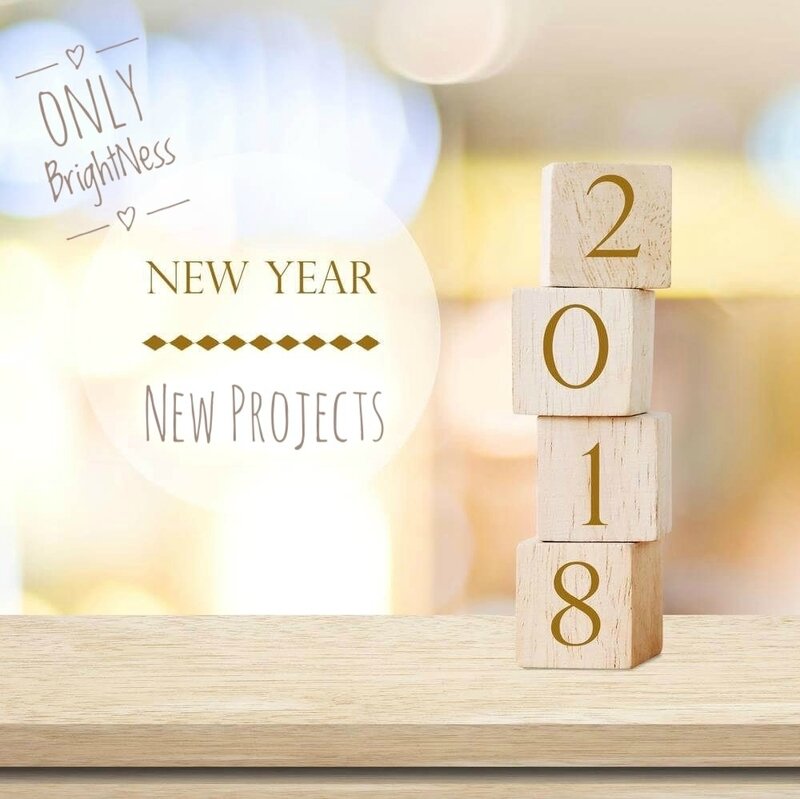 ( image source Pinterest - modifiée par mes soins ahah)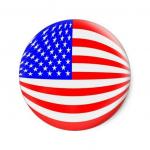 Hi beauties !
2018 has officially started and let's go for the first post of the year !
I'm not going to talk about "good resolutions" because, honestly, who respects them ?
Nooope !!
Good decisions and good things have to be done all year long not for the first week ! ahah
2017 has been a year rich in emotions for me placed under the sign of love! And most of all maternal love!
Because yes, it's the year I became a mommy for the first time. And this is something that I will never neveeeeeer forget !
That's why I will not do a recap of 2017 ( some asked on instagram ) because it's super easy ! My highlight of 2017 is my babygirl !! ( and she will be for ever ahah )
In 2017 I've also lost my job. Things in life not easy to handle!
I didn't talk about it on my social media because just like says my pseudo "onlybrightness" I decided here to share only the positivity!
I want to share some smiles on people's faces and nothing else !
But hey, I had the most beautiful job in the world : being a mom ! So that made things much easier
In 2017 we made a lot of decisions! But shhhhhh ... I can't tell nothing about right now and just have to keep the secret !
I just can tell you that 2018 is going to be the year of "changes" (again ahah)
I will tell you more soon but for now I just wish you a wonderful year, full of love, happiness and new projects
I also want to thank you
THANK YOU so much for the support , kindness and positivity! We are more and more on instagram ( about 13 K )
and also on my blog with 17 K readers!
It's so nice to see that someone reads me. To think that maybe I can help even 1 person.
Quality is more important than quantity !
In 2018 there will be more content on my instagram ! Always my outfits, real life pictures but also more products reviews !
I will keep my honesty and my point of view for everything, just like always !
Happy New Year again !!!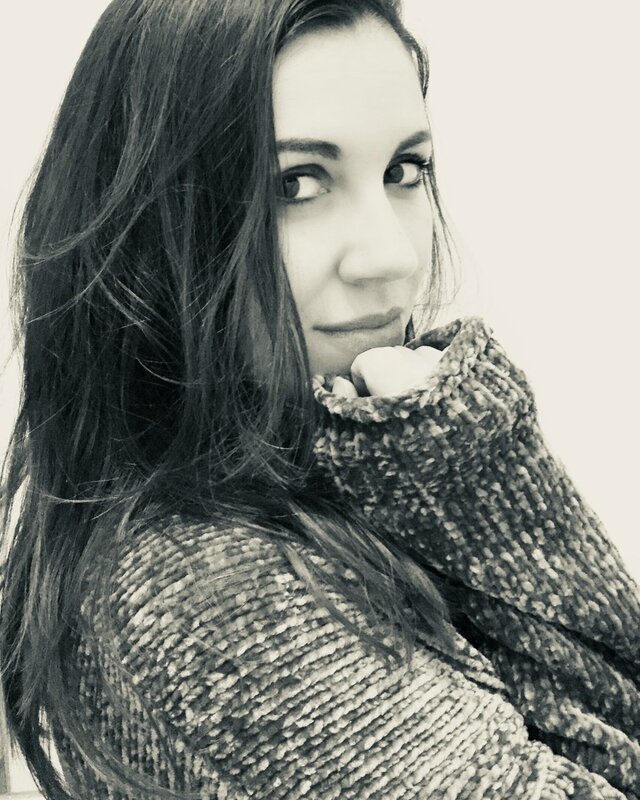 Much love,
V
27 décembre 2017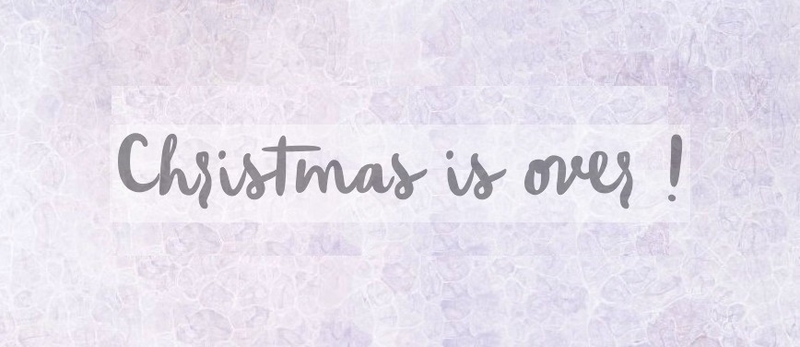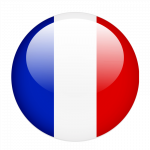 Bonjour vous !
Et oui, Noël c'est déjà fini !
C'est dans ces moments là que "le chemin pour atteindre son but est tout aussi plaisant que le but en lui même" prend tout son sens !
Les préparatifs, les achats, la course frénétique font tellement partis du plaisir de Noël !
Car les célébrations passent en un claquement de doigts!
Vous allez me dire " Oula! c'est pas gai tout ça !"
Mais c'est vrai! Je ressens un "Noël blues" ahah
Non pas que je sois une fanatique mais c'était le tout premier Noël de mon bébé chérie ( oui je mets un "e" à chérie )
et des "tout premier" il n'y en aura plus!
J'ai ressenti même une espèce de tristesse lundi soir. Sentiments de maman.
Comme si une page supplémentaire se tournait, déjà, si vite.
Comme si je n'avais presque pas eu le temps de la lire.
Par chance, j'en ai savouré chaque ligne, chaque mot.
Par chance j'ai immortalisé ces moments pour les garder à jamais .
On a toujours hâte pour tout! Et finalement tout arrive bien trop rapidement.
Depuis que j'ai ma fille je réalise vraiment l'importance du temps. De prendre son temps. De profiter de ce temps si précieux!
Ce Noël était tellement spécial, magique ! Le premier d'une longue liste
Et je me sens comblée par tant de bonheur.
Il faut savoir parfois se poser et juste apprécier.
J'espère que vous avez passé de très bonnes fêtes et que vous en garderez un super souvenir!
Passez une belle journée!
Merci de me lire
Bisouilles,
V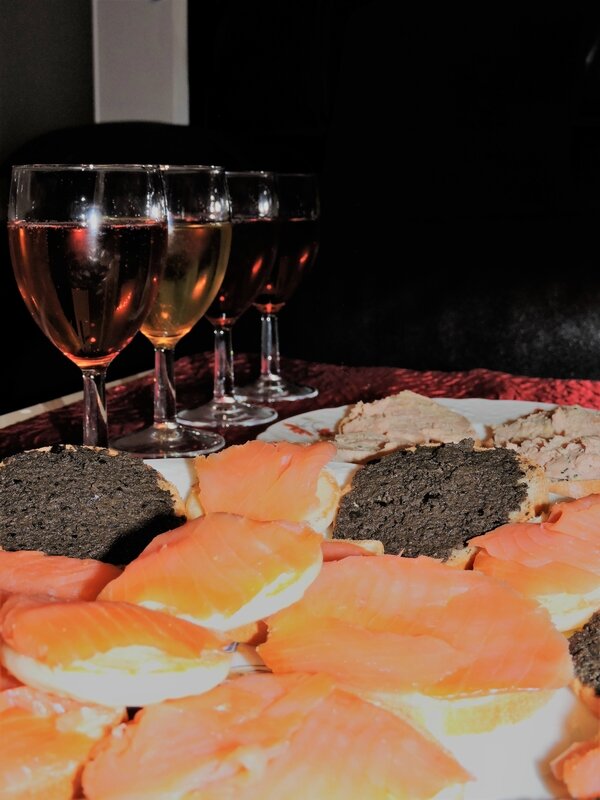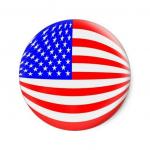 Hi there beauties !
Yes, it's real!
Christmas is over ! Can you believe it ?
It's in those moments that " the way to your goal is as important as the goal itself" takes all its sense !
All the things you think and prepare for your Christmas, the gifts shopping, everything is a part of the magic !
Because yes, the celebrations just passed in a heartbeat !
I know I can hear you saying " uh oh ! not very joyful ! "
But this is the fact : I've got the "Christmas blues" ! ahah
Ok, let's be clear : I'm not a crazy fanatic chritsmas person BUT it was my baby girl's first one !
And "first one" it will never happen again !
I even felt a little sad monday evening. Mommy feelings I guess.
Like if a page was turned.
Fortunately I enjoyed every line of this page, every word.
And I immortalized those precious moments for ever.
We always "can't wait' for everything ! And we often forget to enjoy the present moment!
Since I'm a mommy I think I started to learn how precious the time is.
Well I clearly already knew it ! But you know, it's not the same...
Taking your time, enjoy the time, that precious time that flies !
This Christmas was magical, and it's the first of a long list !
I feel so blessed.
I hope you had an amazing time !
Happy day,
Thank you for reading
Much love, always
V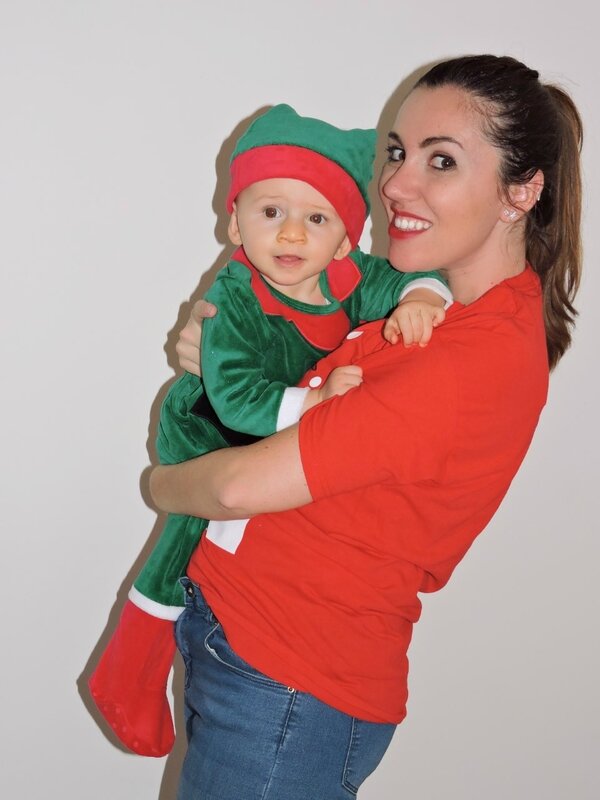 21 décembre 2017
Bonjour vous !
Je prends le temps entre 2 emballages de paquets cadeaux pour vous poster un nouveau look ! :D
Je tenais à vous le partager car c'est un de mes favoris !
Emmitouflée ! Car oui, même ici, ça commence à cailler ! Et c'est officiellement l'hiver en plus !
Je porte mon pull chéri tout doux dit "chenille" que j'ai eu du mal à trouver dans cette couleur moutarde que je voulais absolument!
Et j'ai ressorti mes Nike Airforce One pour avoir mes pieds au chaud !
J-3 avant le Réveillon de Noël ! Vous êtes prêts ?
Ah et sinon !
Vous connaissez le site Neatyy ? C'est un site où vous pouvez choisir un personal shopper et prendre rdv avec pour une séance shopping détente !
Et vous savez quoi ? J' y suis !! Alors si cela vous intéresse ( pour celles qui habitent dans la région de Nice bien sur ) retrouvez mon profil ICI !
J'espère que ce look vous plaira !
Je vous souhaite de très Bonnes Fêtes de Noël !
Profitez de ce temps passé en famille et remplissez vous bien le bidou !
A bientôt
Bisouille, V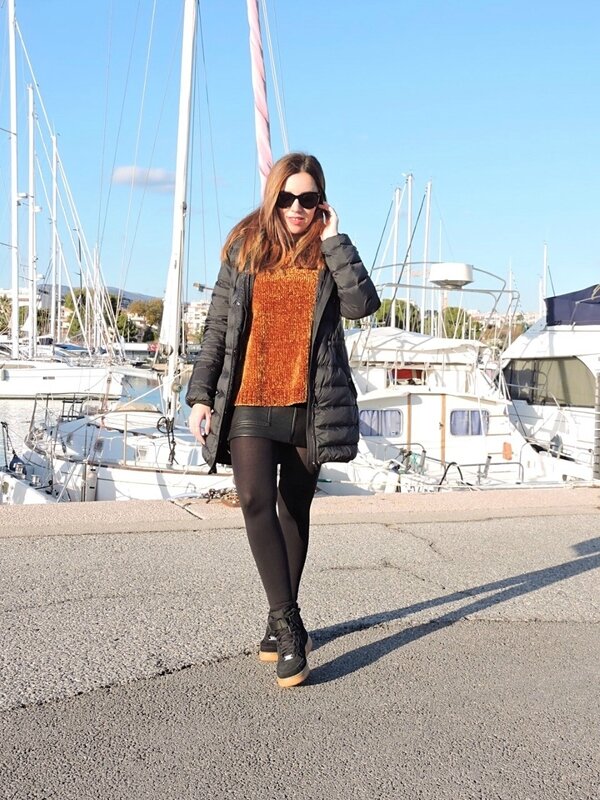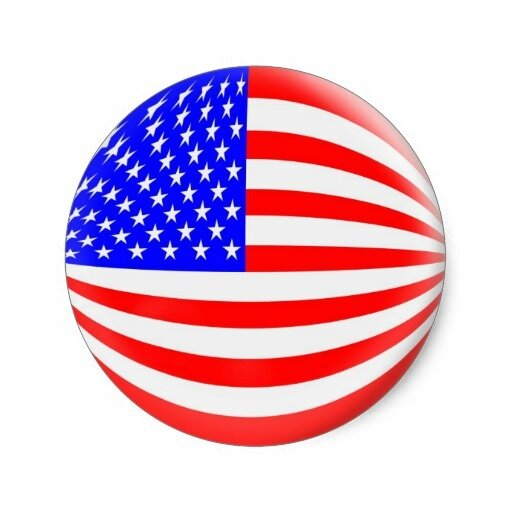 Hi you !!
I hope you're having a great time running for the last Christmas gifts ! ahah
I'm taking some time between 2 gifts packing to post this look because this is one of my favorite and I hope you will like it too !
I'm all bundled up because even here now it's starting to get colder ! and it's officially winter !
It was hard to find that chenille sweater in the color I wanted ( and not too short because hey! I don't want to show my belly ! :D)
but here it is!! I love it it's so soft !!
And my airforce One are back to keep my feet super warm !
I wish you a beautiful Christmas !
Enjoy this time of the year to the fullest !
Much love, always
V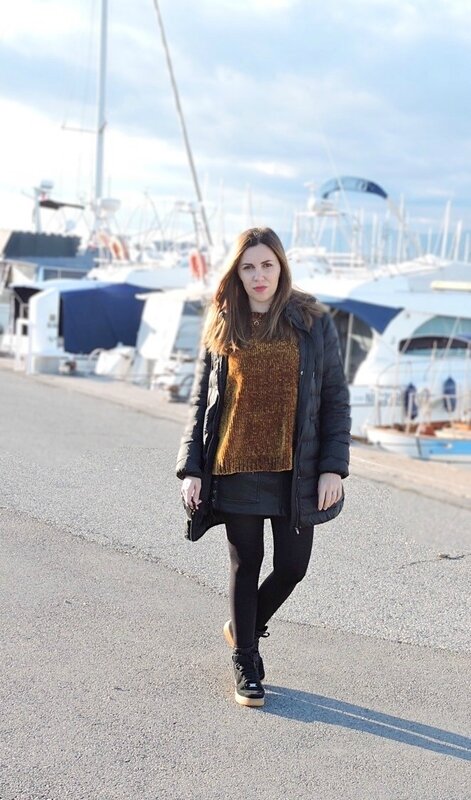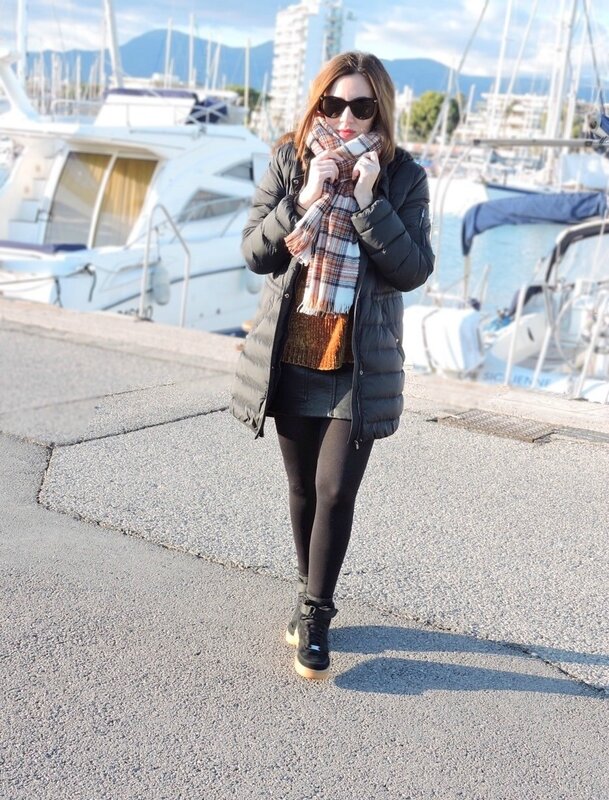 Get the look :
Sunnies : Gucci
Sweater/ Pull : Stradivarius ( il n'y est plus dans cette couleur malheureusement ! similaire chez Mango )
Jupe /skirt : Pull and Bear( old co ) similaire chez Asos
Sneakers : Nike Airforce One
Coat / Doudoune : Zara ( collection hiver dernier ) similaire chez Asos
06 décembre 2017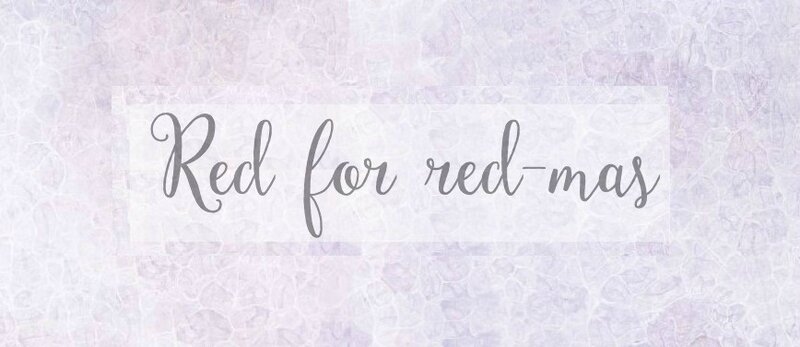 Bonjour vous !
La chasse aux cadeaux a officiellement commencée ?!
Pour moi elle est même terminée ! Bon on est pas à l'abri d'un petit cadeau en plus par ci par là !
Et oui je m'y suis prise à l'avance cette année! * fière* ahah
Je profite des bonnes affaires comme sur les sites ventes privées, showroom privé, ou même pour le black friday !
Alors par contre pour les décorations c'est autre chose ...
Pleine de bonnes intentions, je sors mon carton de décos et là..rien.
Un petit Père Noël "pot" où j'y ai mi mon cactus dedans , un mini arbre lumineux, quelques boules pour le futur sapin et, et, et... c'est tout!
Pour le premier Noël de bébé je me dois de compléter tout ça !
Du coup il faut que je me colle à l'achat de guirlandes et compagnie!
Le rouge est super tendance en cette période mais il l'est aussi pour toute cette saison !
J'ai vraiment craqué sur ce jeans de chez NA-KD !
Cette bande sur le côté! Canon !
Et vous? Vous en êtes où dans la course aux cadeaux ?
Les semaines passent passent vite vous savez.... Je dis ça, je dis rien ! ( non non, je ne veux pas vous mettre la pression.. niark niark)
[ PS : on en parle de ma queue de cheval mal coiffée ? ]
J'espère que ce look vous plaira !!
Bisouilles à vous
Merci de me lire
V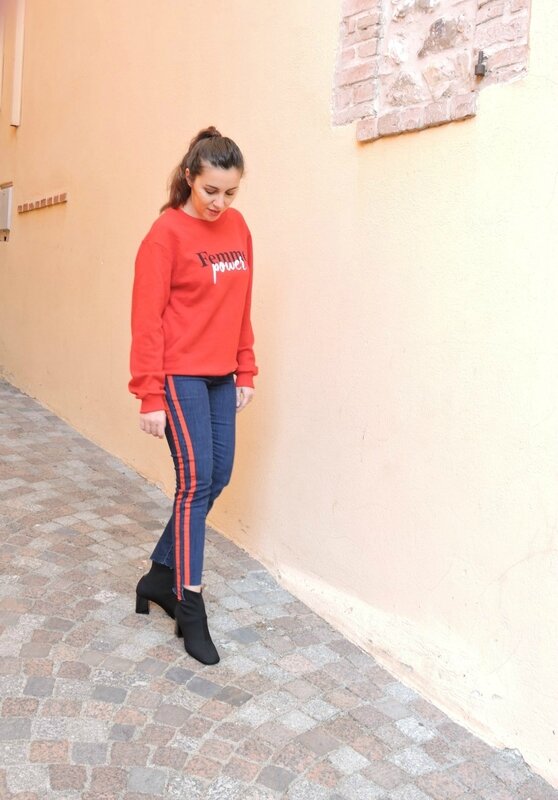 Hi beauties !
It's offically time to start your Christmas shopping ! #tistheseason , right ?!
For me it's done ! No kidding ! Yay!
Well, let's be honnest saying that one gift here or there will surely be add ahah
Last day, full of good intentions, I decided to start my Christmas decoration.
And, and annnnd : drama !! My box was like empty !
One tiny santa here, a few tree ornaments... and that's all !
I thought : "Wait, what ? !! for my baby girl first Christmas this is noooot ok ! " ahah
So this is what I have to do now ! Find some cute Xmas decorations!
Don't we just love this ?
Red is super trendy this period but also for the entire season !
That's why I had a big crush on those jeans from NA-KD !
How cute are they ?
Loved those red stripes !
[ PS : do you talk about that ugly ponytail ? Nooope ]
Hope you will enjoy this look as much as I do !
Thanks for reading!
Much love, always,
V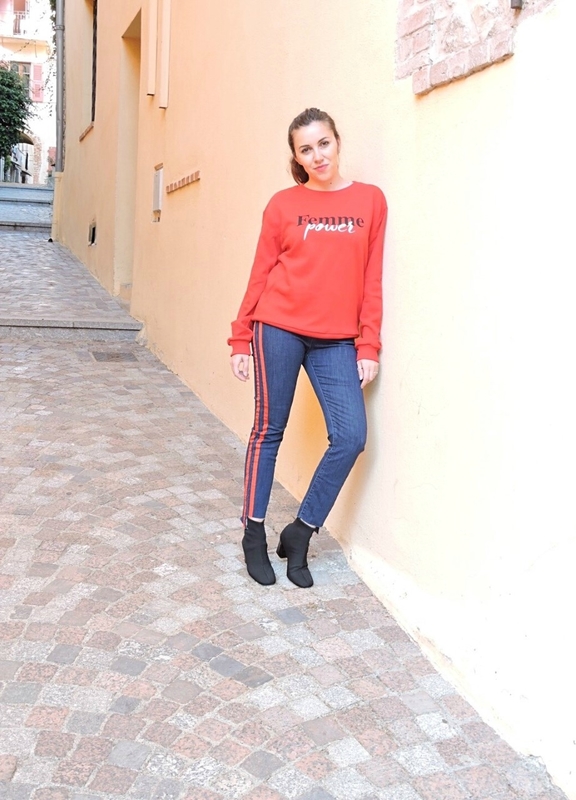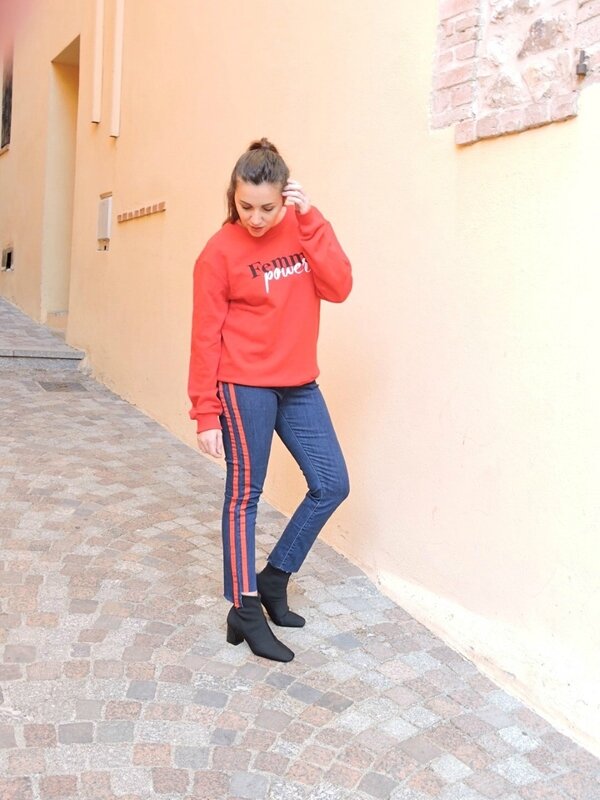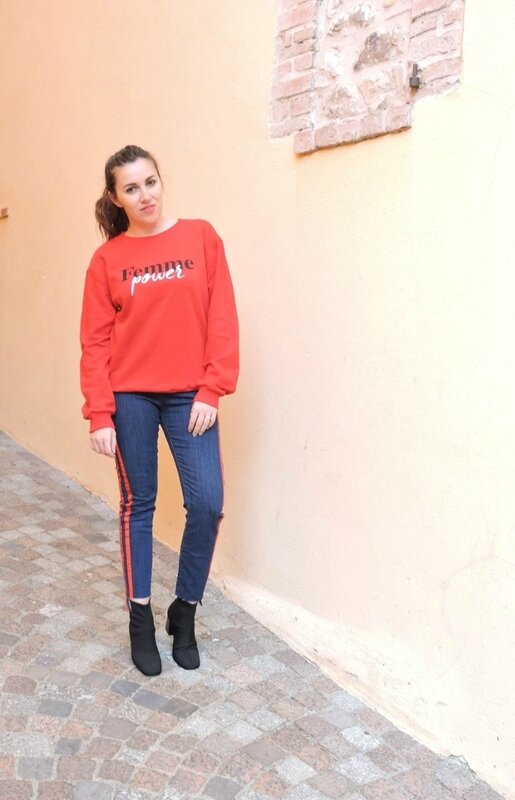 Get the look :
Pull/sweater : Stradivarius
Jeans : NA-KD
Bottines : Mango
04 décembre 2017
Bonjour vous !
Décembre !! youhou !
Un de mes moments préférés de l'année!
Décorations mode "on" ! ( oui, j'ai acheté trois guirlandes ahah)
Un nouveau look aujourd'hui pour vous présenter ces jolis baskets !
Ton rose et brillantes, elles sont parfaites pour un look girly même en sportswear !
Puis tout ce qui brille est de saison non ?!
Elles sont très légères, jolies et à un prix plus qu'abordable. Il y a pas de quoi s'en priver !
"Cendriyon" ce n'est pas moi ! ahah
C'est la marque qui me les a gentiment offertes et je vous invite d'ailleurs à aller découvrir leurs produits sur leur site www.cendriyon.com !
Ils ont de très jolis produits et à petits prix !
(En ce qui concerne le pull et le jeans ils viennent de chez NA-KD)
J'espère que ce look vous plaira !
Vous avez passé un bon weekend ?
Pour ceux qui ont suivi mes stories sur instagram ( voir onglet -instagram- dans les catégories du blog ) vous savez que je suis partie sur Albi , magnifique petite ville du sud ouest
Et que le trajet a été un petit périple!
Coincés sur l'autoroute à cause des chutes de neige sur PACA et Var !
Aaaah on s'y attendait pas pour sur ! ahah
Mais ça fera une bonne anecdote pour plus tard ça! Surtout que bébé a été un ange : 8h de route c'est pas rien!
Passez une belle journée
Merci de me lire !
Bisouille
V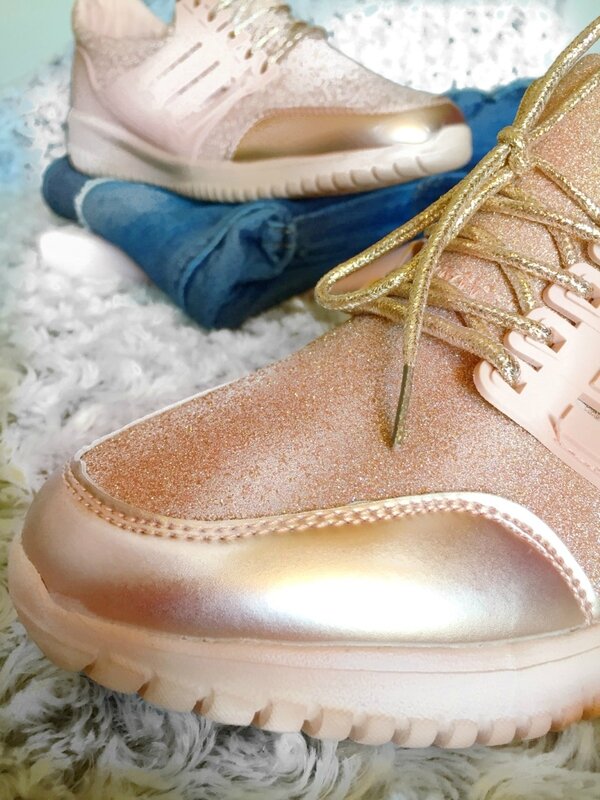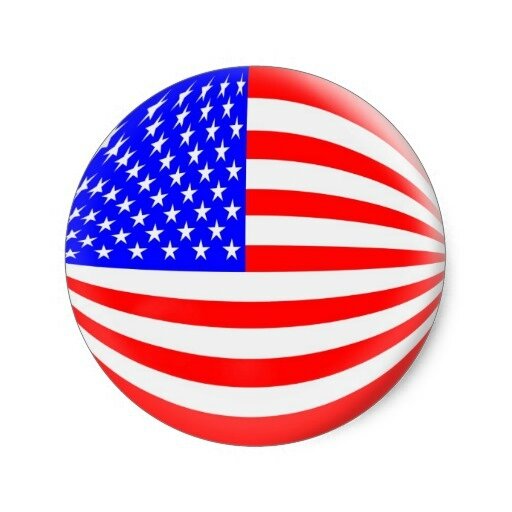 Hi beauties !!
December !! Here we are !
Are you readyyyy ?
Ok, I started to decorate ! yay!
Here a new look with those cute pink sparkling sneakers !!
They are so cute and so light !
I love their design !
"Cendryion" isn't me ! ahah It is the brand which kindly offered me those cuties! You can check them out on www.cendriyon.com and find how many cute stuff they have !
( sweater and jeans from NA-KD )
Hope you will like this look !
For who follows me on instagram you know I had a little getaway this weekend!
Albi is such a beautiful city and I hightly recommand you to visit !
Iris has been an angel during all those hours in the car ( and also 2 h blocked by the snow ..ughhh )
I'm such a blessed mommy !
Happy monday !!
Much love, V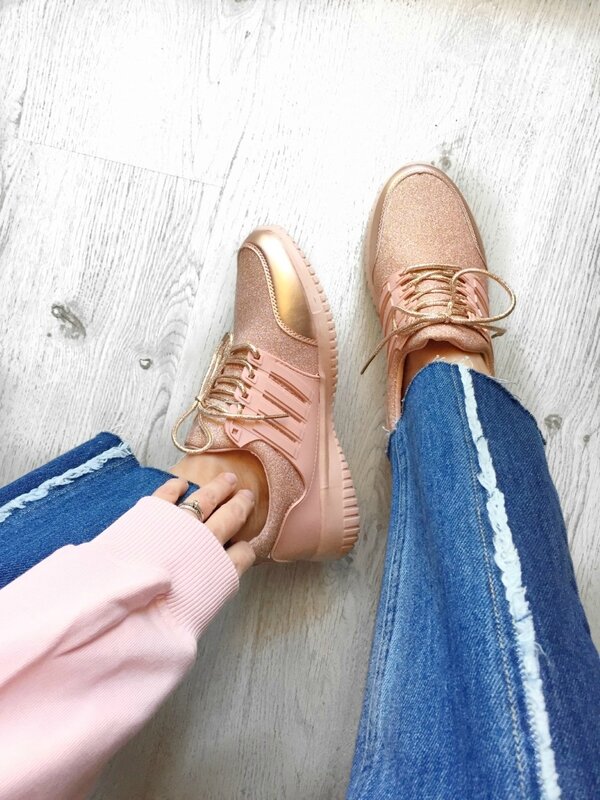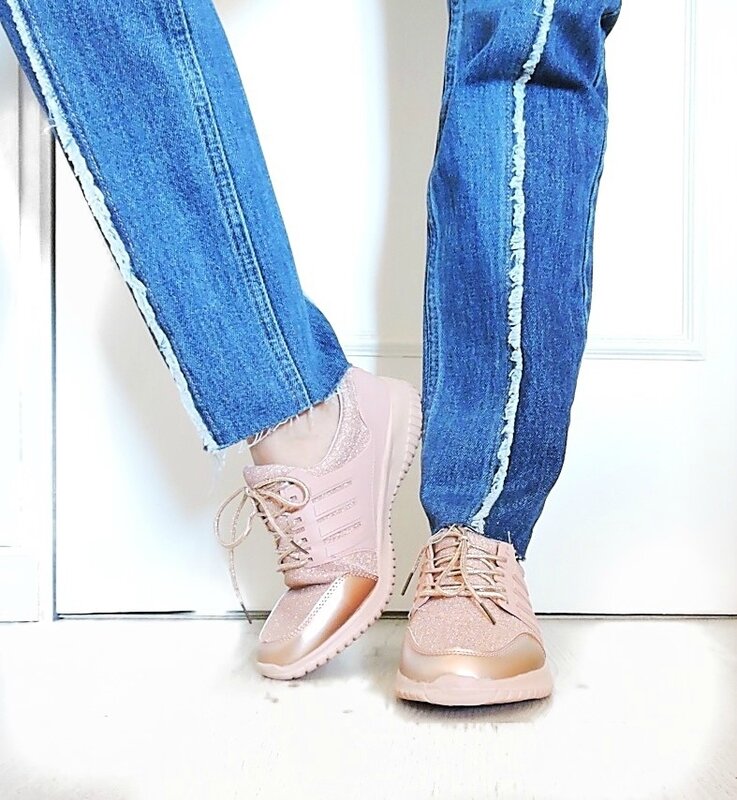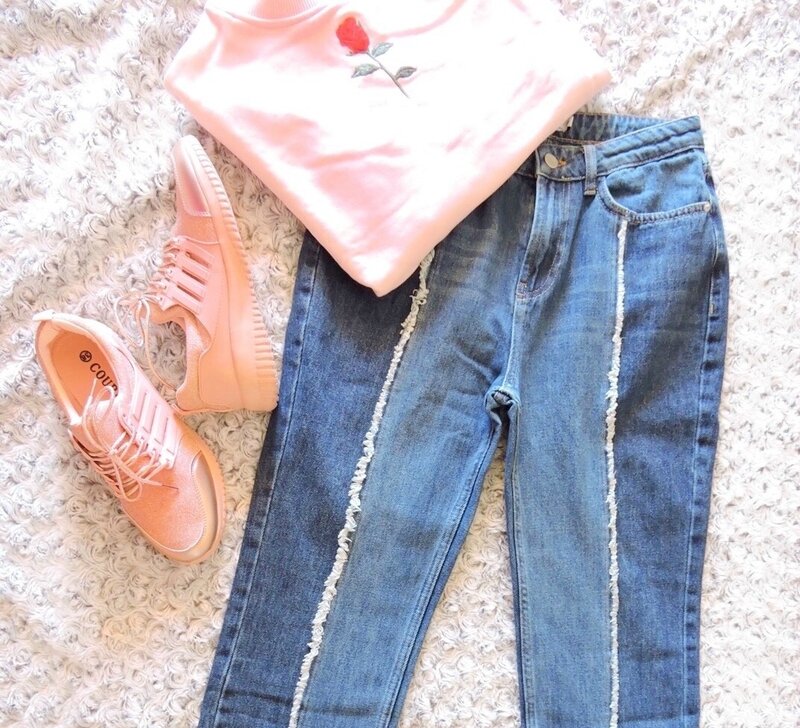 Get the look :
Sneakers : Cendriyon
30 novembre 2017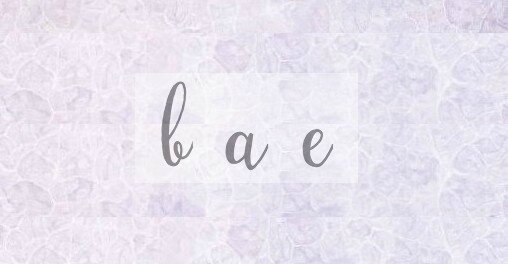 Appelle moi BAE "Avant tout !"
Qui n'a pas envie d'être le "bae" de quelqu'un? celui ou celle qui passe avant n'importe qui et n'importe quoi ? :D
Merci Wooop pour ce pull d'amour !
Chaud, doux et bordeaux ? Ces mots font partis de mes favoris de l'hiver !!
Je l'ai associé à un pantalon enduit et des bottines pour un look chic décontracté !
Vous aimez ?
La qualité est top! Et comme vous le savez j'adore soutenir les marques françaises!
Alors c'est parti ! Chez Wooop ils ont plein de messages différents ! Sympa pour un cadeau de Noel non ?
Je vous laisse découvrir leur site ICI !
Hey ! On est presque en décembre !
J'espère que ce look vous plaira !
Merci de me lire
Bisouilles
V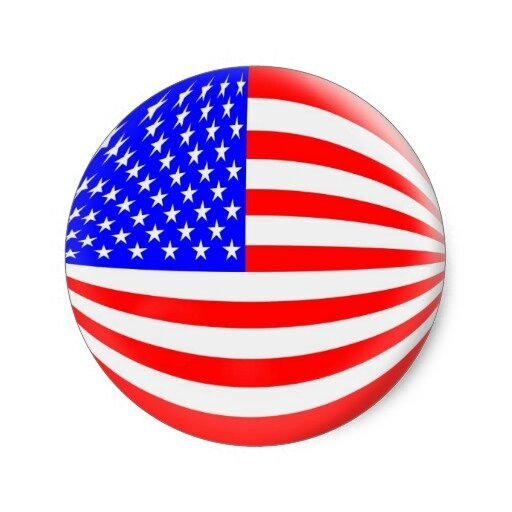 Hi beauties !!
Sharing with you today this french brand called "Wooop" !
They have a lot of different messages and good quality pattern !
Who doesn't want to be somebody's "bae" ? ahah
I just love my burgundy "Appelle moi BAE" sweater !
It's warm and soft! Which means, perfect for winter style !
I paired it with those fab pants and cute booties for a more casual chic look
So maybe if you want a frenchie touch among your Christmas gifts , check their website HERE !
And hey !! Almost december already !
Who else is super excited ?
Thank you for passing by !
I hope you will like this look
Much love, always!
V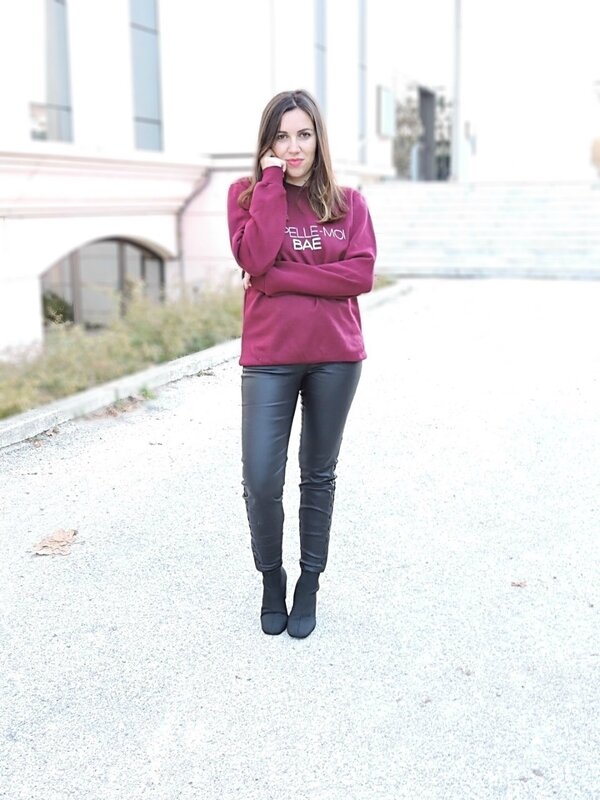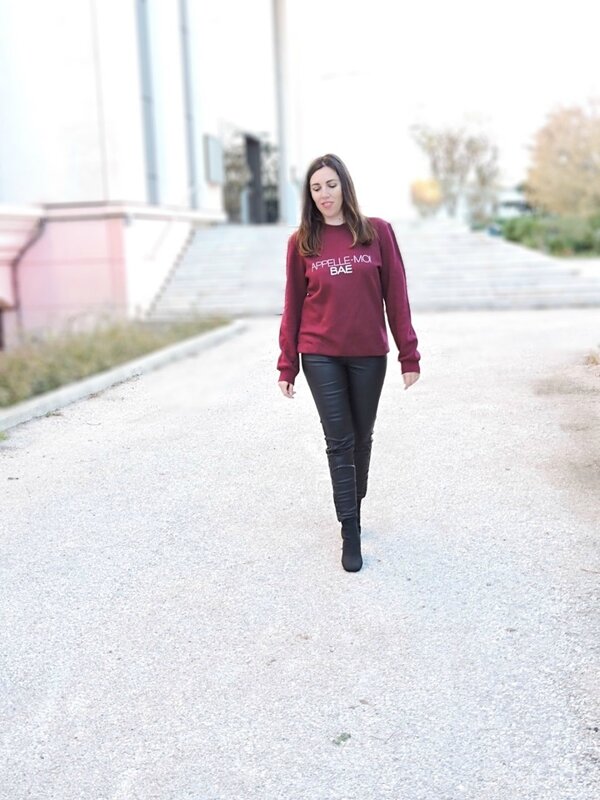 Get the look :
Sweatshirt : Wooop
Pants : Stradivarius
Bottines : Mango ( similar ! )
20 novembre 2017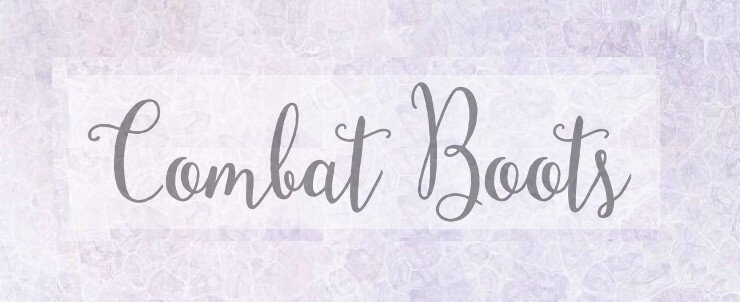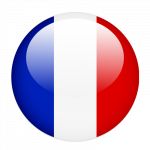 Bonjour vous !!
Un nouveau post "look" juste à cause de mes nouvelles boots Zara d'amour !
Je pense que vous allez les voir très souvent et à toutes les sauces !
Mais qui va me jeter la piiiiiiiierre ? Qui?!!!!!
Elles sont tellement confortables et stylées !
Le combo parfait , c'est pas vrai ? ( mais pourquoi je pose des questions alors que personne ne peut me répondre ? Et bien une petite question rétorique ne fait de mal à personne ! Voilà ! ahha)
J'espère que vous allez bien !
Ici ça va, je me plonge vraiment dans les fêtes de Noel ! Je vais d'ailleurs bientôt commencer la déco.
Il y a pas à dire : quand tu as un enfant les fêtes prennent une autre tournure ! ( et aussi un autre tournant," porte-monnaiement" parlant ! ahah )
Mais quel plaisir !!
J'espère que ce look vous plaira !
La bisouille ,
V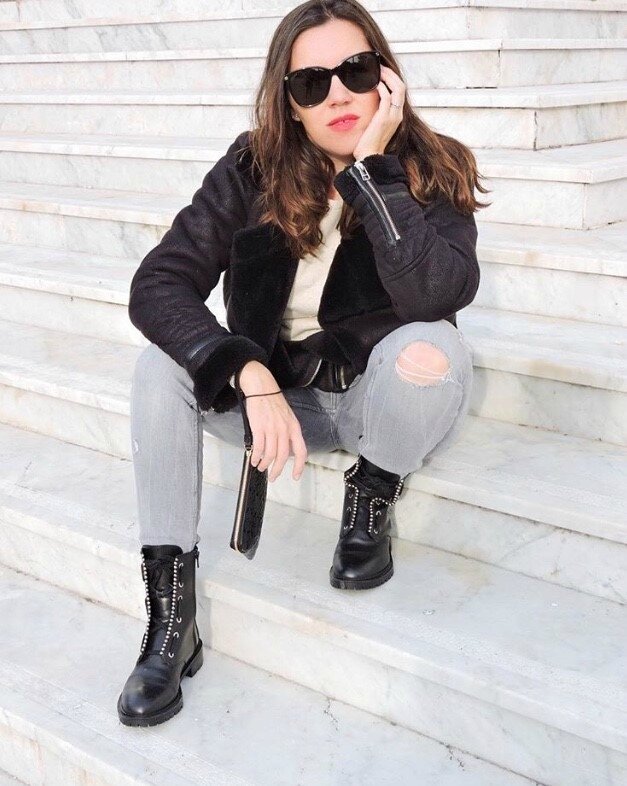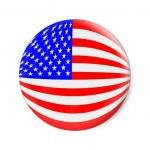 Hi you !
A new outfit post just because I'm in love with my new Zara boots !
I think you're going to see them on repeat !
But : " Don't put a blame on meeeee, don't put a blame on meeee " ! ahah
( can you still hear that song in your mind ? yes, it's normal ! I do love it by the way ! )
They are super comfy and so stylish !
They literally go with everything so it's a win !
I hope you're all doing well.
Here I'm jumping in the Christmas spirit and with both of my feet !
I will soon start to decorate my appartement, yay !
It's crazy how having a child changes everything and makes things super excited! ( I mean even more ahah)
Hope you will like this look!
Thanks for reading
Much love, always
V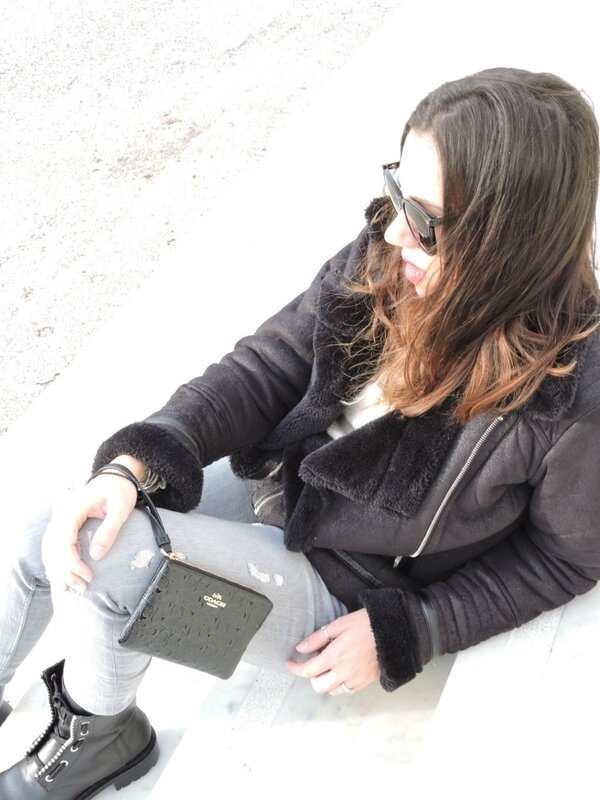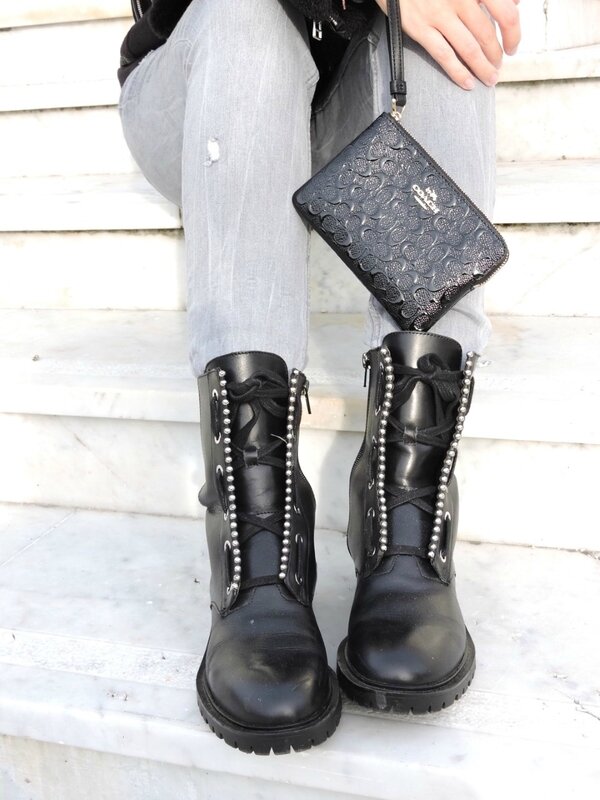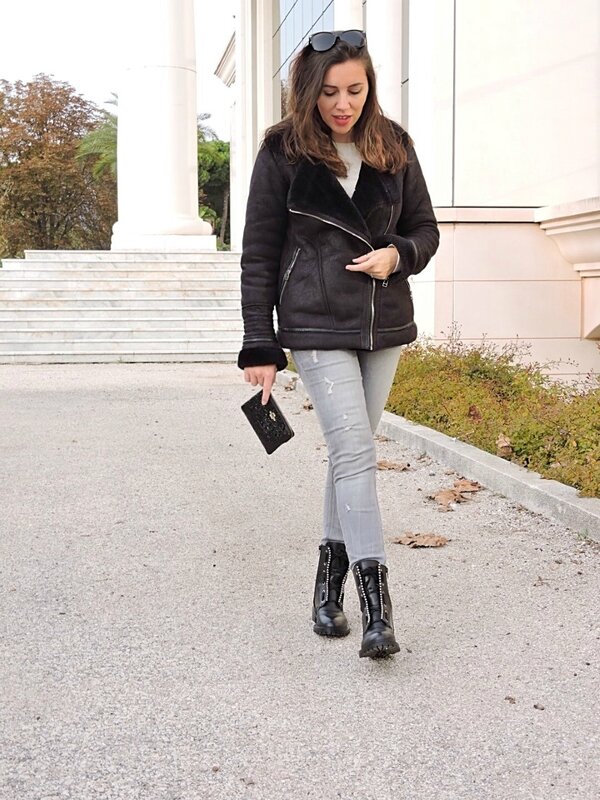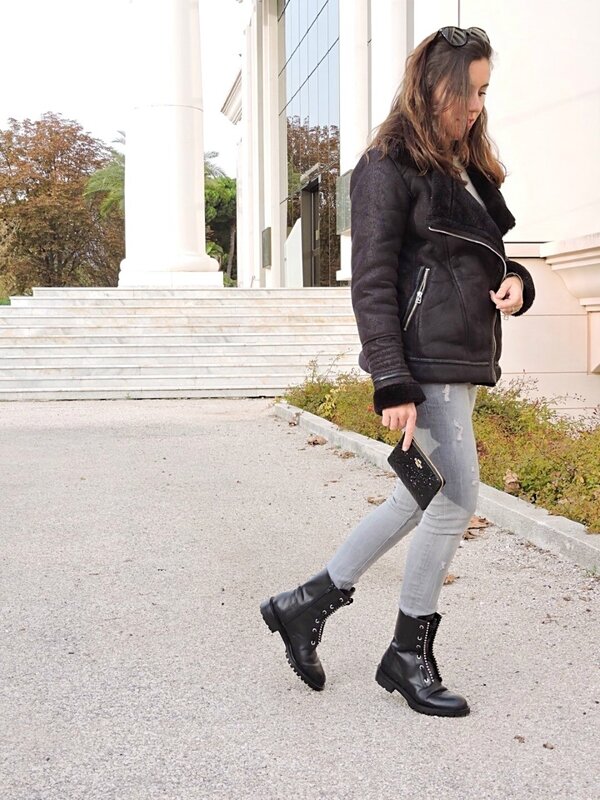 Get the look :
Solaire /sunnies : Gucci
Jacket / veste : Asos (old) similar here
Pants/pantalon : Zara (old) similar here
Boots : Zara
Pochette : Coach