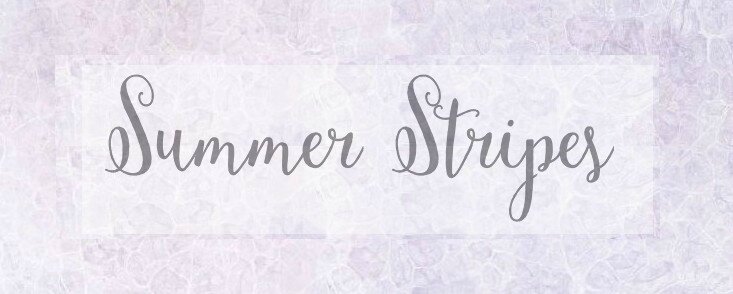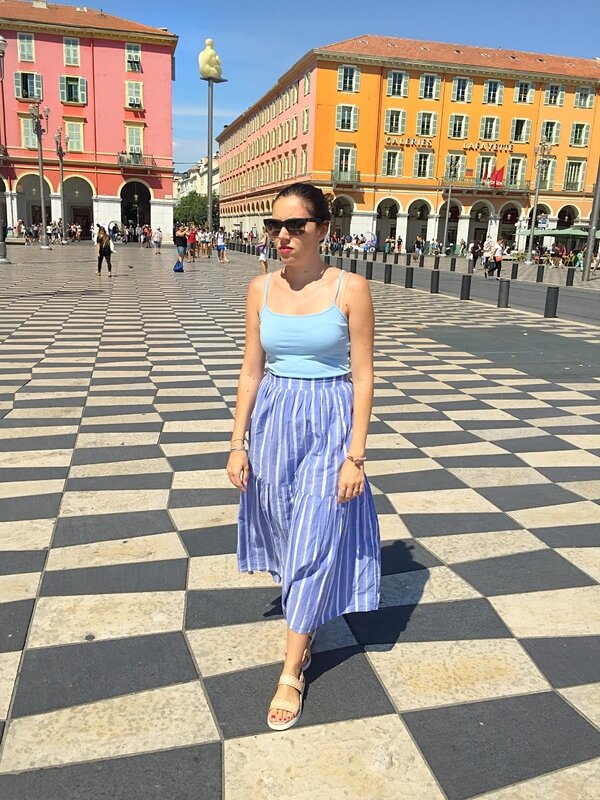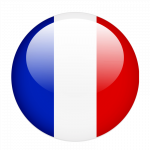 Bonjour vous !
En cette période de vacances les post se font rares ! Je l'avoue !
Mais comme toujours, la vie de famille avant tout!
Je voulais partager ce look avec vous car j'adore cette jupe rayée
Je veux dire : mignonne et confortable , qui dit non ? ( vous pouvez, je ne vous entends pas et ne vous vois pas non plus ahaha )
Les rayures et surtout bleues et blanches sont super tendance cet été !
Car oui! c'est encore l'été! Ne soyons pas pressés d'être à l'automne... Il y a un temps pour tout ( temps *tictac* + temps *météo* , get it ? ahah)
Même si ok, je lorgne moi aussi sur les nouvelles collections !
En hiver, j'aime bien faire ma "Beetlejuice" et porter des rayures noires et blanches!
Cette jupe vient de chez Stradivarius, je l'avais achetée en Italie en solde pour environ 5 €!
Les rayures sont vraiment un intemporelles et surtout indémodables
Je voulais porter cette jupe avec un t-shirt manches courtes mais la chaleur super pesante de ces jours ci a eu raison de tout.
Par contre étant un peu serrée au niveau du bidon ( bah quoi?! ahah ) j'ai préféré la porter en taille haute !
Le joli bracelet que vous voyez en gros plan est un Paul Hewitt !
J'espère que ce look vous plaira
Ces photos ont été prises pendant une balade dans Nice, ici vous voyez la Place Massena !
A très bientôt
Bonne vacances pour ceux qui le sont, bonne reprise pour ceux qui ne le sont plus!
Et bonne semaine pour tout le monde! :D
Merci de me lire
La bise , V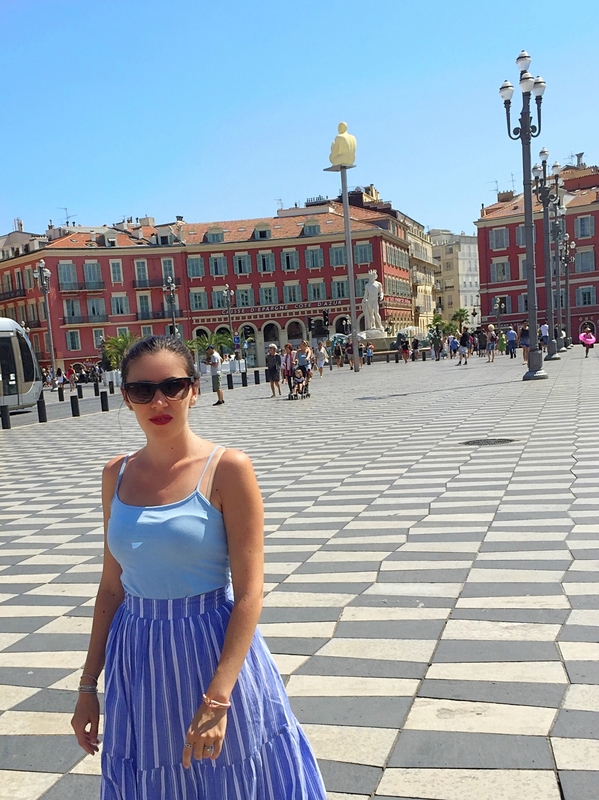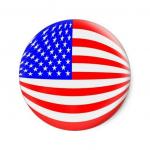 Hi you !!
I know! I do not post a loooot !
But hey! It's vacay time ! And just like always : Family First !
However, I wanted to share this look with you because I love this skirt !
I mean, cute, comfy and stripes ? Who says no ? ( you can, i don't hear or see you anyway ..ahah)
Stripes is a endless trend!
White and blue, chambray..is the best for summer !
But winter stripes are just great too ! I like to "beetlejuice" sometimes in white and black stripes !
I found that skirt from Stradivarius, and to tell you the truth : on sale for 5€ !
Such a steal right ?
I wanted to wear it with a cute tee but it's soooo hot that the temprature won!
The bracelet you can see is from Paul Hewitt ! It definitey goes with every outfits !
Hope you will enjoy this post !
Those pictures were taken during a walk in Nice! Here you see the Place Massena !
I wish you a great weekend !!
Xoxo
Thanks for reading!
V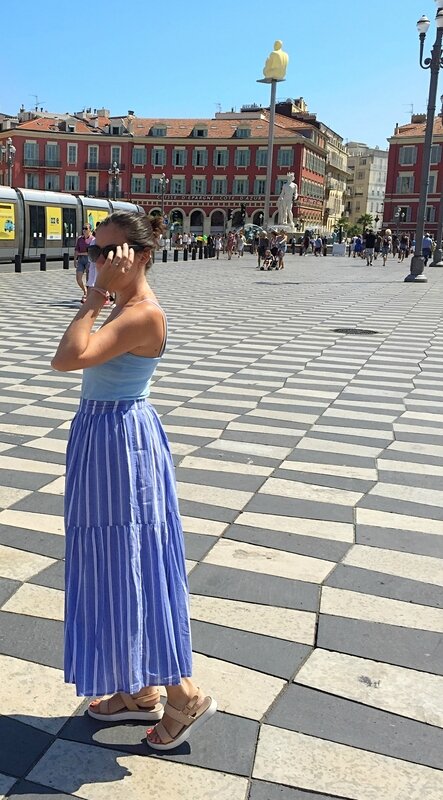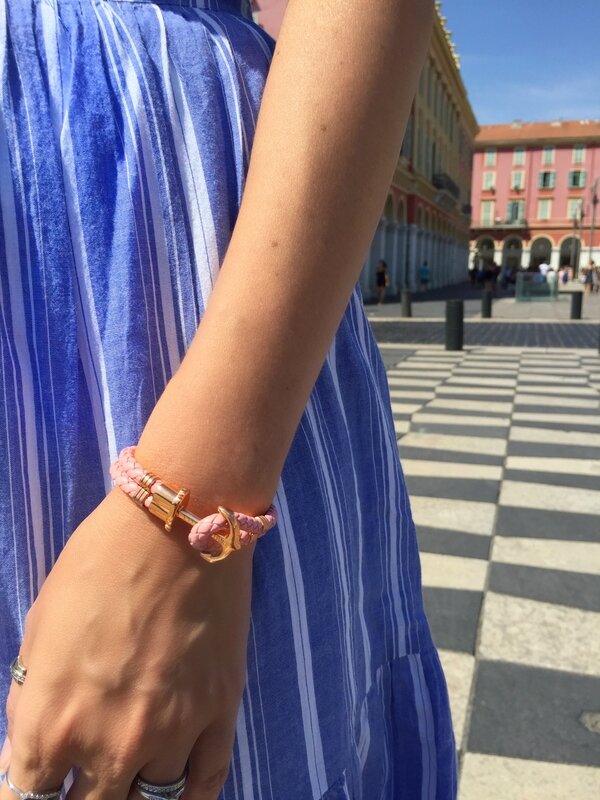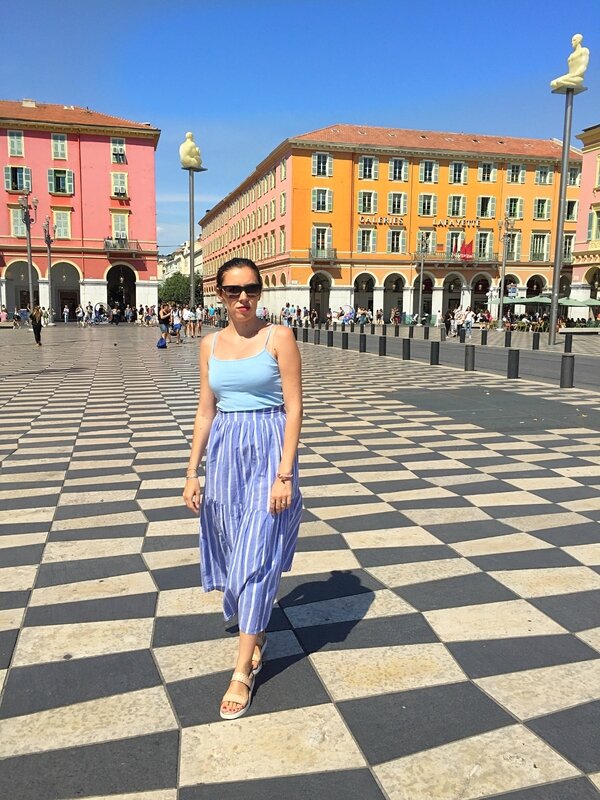 Get the look :
Jupe/skirt : Stradivarius ( sold out, looking for similar ones : here on Etsy - here on bonprix- or try here on amazon) - Bracelet : Paul Hewitt - Sunnies : Ray Ban RB4186